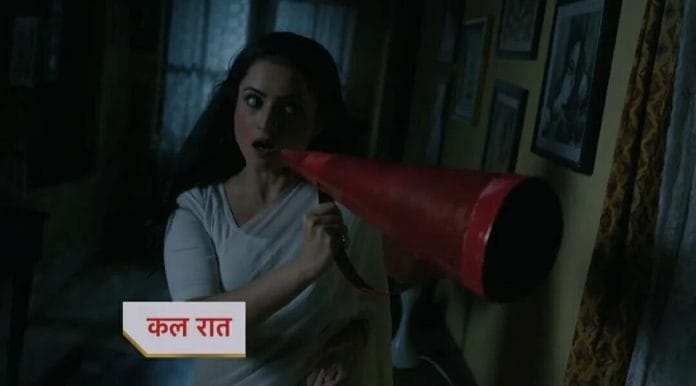 Anandibaa Aur Emily Spoilers, Upcoming Story, Latest Gossip , Future Story, Latest News and Upcoming Twist on tellyexpress.com

Star Plus popular serial Anandibaa Aur Emily is gearing up for some intense drama and interesting twists in the upcoming story. Previously, Gunjan and Pinky ployed to scare Emily after finding about her fear of ghosts. Anandibaa organised a puja for Moti Baa's death ceremony but Gunjan created problems in it, in order to blame Emily for the mishap.
She manipulated Anandibaa stating that Moti Baa's spirit is angry with her for marrying Emily with Aarav. Whereas, the latter got concerned for Emily and stayed with her for whole night.
In the current track, Gunjan hides Pinky from the Sanghanis and ask the latter to stay inside the store room. Whereas, Pinky becomes restless and tries to go out from there, but Gunjan stops her and reminds about the consequences they will face, if anyone find out about their ploy. She reminds Pinky about her goal to marry Aarav and ask her to give some sacrifice for it.
Here, Emily tries to protect herself from the ghost while Anandibaa gets irked by her. Emily assures Anandibaa that she will surely impress Moti Baa and gives Anandibaa's example to her only. The latter gives a chance to Emily but proclaims that she don't have any confidence on her.
Emily takes Payal's help in order to learn about Moti Baa, while she takes her inside the store room in order to show the old stuffs of Moti Baa. Pinky gets alert and hides from them, while they misunderstood her to be a ghost and runs away from there after seeing the stuffs of Moti Baa.
Ahead, Emily sees the music cassette and gets elated thinking that she can impress Moti Baa with her singing and dancing. She performs in front if Moti Baa's portrait, while everyone gets shocked.
The wind starts blowing and Gunjan manipulates that Moti Baa got angry. Anandibaa rebukes Emily, while the latter gets disheartened but Lord Krishna consoles her. He motivates her to keep trying while Gunjan gives food to Pinky by making excuse that she is giving it to Moti Baa.
Later, Anandibaa mixes spicy pickle into the food and Pinky unwilling eats it. Emily also decides to use the trick to impress Moti Baa's spirit but gets scared again after going inside the store room.
Now in the upcoming episode, Emily will get excited and tells everyone that Moti Baa has accepted her sweet dish. Anandibaa will proclaim that it doesn't prove anything and states that if Moti Baa will give a clear sign that she likes Emily before her last puja, then only Emily can stay with them orelse she will have to leave the house.
Meanwhile, Aarav will get stunned after seeing his and Emily's picture on the wall and will show it to everyone. Emily will get happy and says that it is a sign from Moti Baa that she likes her.
Will Anandibaa accept Emily?
Will Pinky gets caught?
It would be interesting to see what happens next on the show.
Stay tuned with us for more news, Spoilers and written updates of Anandibaa Aur Emily.