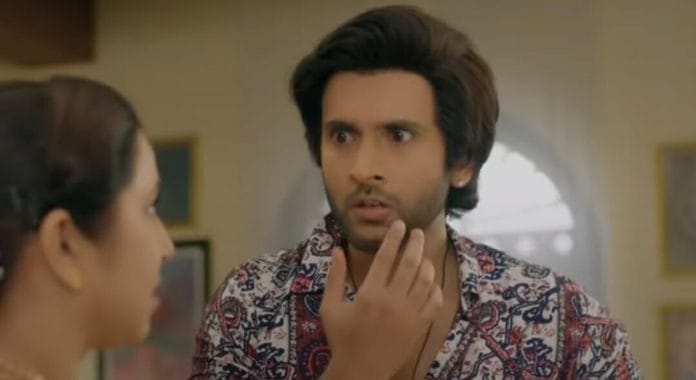 Anandibaa Aur Emily Spoilers, Upcoming Story, Latest Gossip , Future Story, Latest News and Upcoming Twist on tellyexpress.com
Star Plus popular serial Anandibaa Aur Emily is gearing up for some intense drama and interesting twists in the upcoming story. Previously, Aarav found a loophole in divorce papers and saved Emily from leaving the house.
Whereas, Gunjan noticed the latter speaking to herself and used it to manipulate Anandibaa against her. She proclaimed that Emily is possessed, while Anandibaa got scared and decided to help her.
In the current track, Gunjan insists Anandibaa to throw Emily out of their house but the latter denies and determines to help her. She contacts Gopi baba and takes his appointment to save Emily.
Whereas, Aarav tells Jaman about the offer to visit America. He notify about a mobile company which is taking 100 candidates to America and will bring them back after 1 year.
Here, Aarav decides to arrange 30 thousands rupees, as he already had 70 thousand and the amount required to participate is 1 lakh. Jaman ask him to hurry orelse the seats will get full.
Emily talks to Lord Krishna regarding Gopi baba and decides to impress him. The God warns her to be aware of the people whom she meets and advice not to trust them without talking and learning about them.
Ahead, Emily ask the Lord Krishna that if Gopi baba aslo can see him? To which he replies that he is around everyone and all can see him through their heart. Emily takes knowledge from him and practice to impress Gopi baba.
Anandibaa visits Gopi baba along with Gunjan, Pinky and Gulab. The latter decides to leave Parimal baba for Gopi baba, but he ask for donation and Gulab couldn't able to give it. He ask Anandibaa about 2 lakh rupees while the latter assures to give him and notify about Emily being possessed.
Later, Gunjan gets scared thinking that Gopi baba will expose her but she laughs after finding that he is fake and fools thr public. Gopi baba visits Sanghanis house and Emily gets suspicious after talking to him, whereas he declares that she is possessed by spirits.
Now in the upcoming episode, Anandibaa will ask Aarav to give her locket to the jeweller, so that he will fix the diamond into it. At that time a dog will come out of the basket and runs around the dinning table. Everyone will move away from there, while Gunjan will tell that the dog has eaten the diamond. Anandibaa will get shocked and screams, while all will look towards her.
Will Emily helps Aarav?
Will Anandibaa find about Gopi baba's truth?
It would be interesting to see what happens next on the show.
Stay tuned with us for more news, Spoilers and written updates of Anandibaa Aur Emily.