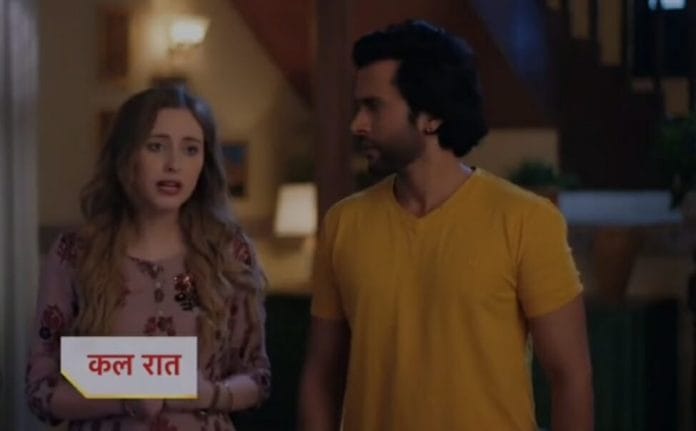 Anandibaa Aur Emily Spoilers, Upcoming Story, Latest Gossip , Future Story, Latest News and Upcoming Twist on tellyexpress.com

Star Plus popular daily soap Anandibaa Aur Emily have garnered a huge amount of audience. The gripping storyline filled with twist and turns makes it engaging to the viewers.
Previously, Gunjan and Pinky ployed to instigate Anandibaa against Emily and scared the latter in order to throw her out of the house and Aarav's life. Whereas, Emily determined to impress Moti Baa's ghost in order to get Anandibaa's approval to stay in the house.
In the current track, Aarav shows his support towards Emily and diverts her mind from the ghosts in order to make her feel secure. Meanwhile, Pinky disguises herself as the ghost and starts scaring Sanghanis, as per Gunjan and her plan.
Here, Payal helps Emily in order to impress Anandibaa and Moti Baa's ghost. The latter notify her about all the likes and dislikes of Moti Baa, while Emily performs a dance but Gunjan fails her plan and Anandibaa gets furious at Emily.
Anandibaa ask Emily to leave the house while the latter gets devastated. Lord Krishna comforts Emily and ask her to stay strong. Meanwhile, Emily prepares a sweet dish for Moti Baa and keeps it inside the store room.
Ahead, Gunjan again tries to ruin Emily's plan but Anandibaa forces the latter to stay with her and she gets failed to spoil Emily's dish. Emily couldn't able to see Pinky inside the store room, while Moti Baa's ghost accepts the sweet dish prepared by Emily.
Anandibaa gets stunned seeing all the matter and ask for a major sign in order to accept Emily. Meanwhile, Pinky and Gunjan gets scared by Moti Baa's ghost and the latter runs out if the store room.
Later, Aarav shows the repaired photo frame of his and Emily hanging on the wall and tells Anandibaa that it is a sign from Moti Baa. The latter accepts it unwillingly, but Emily finds that it was done by Jaman and tells Anandibaa about it. Whereas, the latter glares at Aarav and Jaman.
Now in the upcoming episode, Anandibaa will take a decision for a couple and proclaims that the girl can't reject the guy only because he is bald. At that time Emily will come forward and proclaims that the girl have every right to do it, as it's her choice to marry whomever she wants. Meanwhile, Gunjan will instigate Anandibaa and says that they should make Aarav bald in order to see what Emily will do after that.
Will Aarav gets bald?
Will Emily takes a stand against Anandibaa?
It would be interesting to see what happens next on the show.
Stay tuned with us for more news, Spoilers and written updates of Anandibaa Aur Emily.