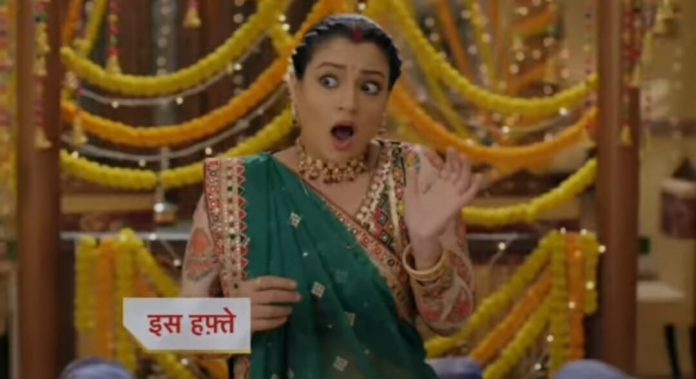 Anandibaa Aur Emily  Spoilers, Upcoming Story, Latest Gossip , Future Story, Latest News and Upcoming Twist on tellyexpress.com
Star Plus popular daily soap, Anandibaa Aur Emily have managed to rise curiosity in the minds of people, with its twist and turns in the storyline. Previously, Gunjan created several situations to expose Emily but gets unsuccessful.
She acted to be helpful towards Anandibaa just to gain her trust, but in reality she tried to break Aarav and Emily's marriage for her sister's benifit. She even had stolen Jaibala's ticket in order to stop her from leaving.
In the current track, Gunjan burns the ticket of Jaibala and shares her ploy with Pinky, while the latter shows her gratitude towards Gunjan. She thanks her sister for helping her to get married to Aarav, whereas the latter waits for Jaibala to return back to Sanghanis house.
Here, Aarav shows his concern towards Emily and ask her to remove her veil as she was facing problems with it. Meanwhile, Anandibaa shows her gratitude towards Gunjan and praises her for protecting them from a critical situation.
Gunjan acts to be nice in front of Sanghanis but smirks inwardly thinking about her master plan. Meanwhile, Jaibala returns back to their house and Sanghanis gets shocked. Anandibaa goes upstairs to inform Aarav and Emily about it and ask the latter to keep her face covered.
Ahead, Gunjan shows her excitement to see Jaibala and reminds her about the Muh-Dikhai ritual of Emily. Jaibala decides to attend it and shows her attachment towards Anandibaa and her family.
Anandibaa gets tensed thinking about the problem, while Gunjan comes for her rescue. She gives an idea to Anandibaa and ask the latter to make Emily wear a wig to hide her identity from Jaibala.
Later, Gunjan gets Emily ready with a long wig and the latter comes downstairs to start the Muh-Dikhai ceremony. Jaibala notices Emily's long hair and talks about it with Anandibaa. Whereas, Jaibala proceeds to see Emily's face while others gets tensed.
Now in the upcoming episode, Gunjan will intentionally keep her leg on Emily's long wig, as she was about to move away.
The latter's face will get revealed in front of Jaibala as the veil gets uncovered along with the fake hair. Jaibala will get shocked seeing Emily and taunts Anandibaa about it. She will remind her about the past situation, when Anandibaa made Jaibala break her daughter's marriage and ask the latter to do the same.
She will proclaim that it's Anandibaa's test to choose in between her authorities or Aarav's marriage, while Anandibaa will get shocked and becomes nervous to take a decision.
Will Anandibaa break Aarav and Emily's marriage?
Will Gunjan's ploy gets successful?
It would be interesting to see what happens next on the show.
Stay tuned with us for more news, Spoilers and written updates of Anandibaa Aur Emily.