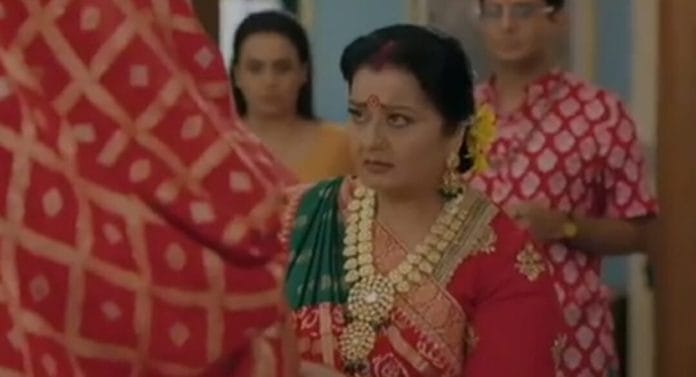 Anandibaa Aur Emily  Spoilers, Upcoming Story, Latest Gossip , Future Story, Latest News and Upcoming Twist on tellyexpress.com

Star Plus popular daily soap Anandibaa Aur Emily is all set to serve the audiences with a high voltage drama, along with the ongoing plot. Previously, Gunjan ployed to break Aarav and Emily's marriage and invited Jaibala in their house to fulfill her plan. Whereas, Sanghanis tried to hide Emily from Jaibala and lies to her in order to save Anandibaa from facing a crucial situation.
In the current track, Gunjan acts in front of both Anandibaa and Jaibala. She pretends to be on Anandibaa's side and gets successful in getting her trust, whereas she also ploys against Emily and determines to expose her face to Jaibala. She notify Pinky about her plan and assures the latter that she will make sure Aarav gets married to her, after getting separated with Emily.
Here, Gunjan insisted Jaibala to stay till the Muh-Dikhai ceremony of Emily and acts emotionally in order to convince her. She says that Anandibaa will get hurt if she will leave without attending the function.
Jaibala agrees to stay and eat Emily's handmade food, while the latter lies to Anandibaa that it was Jaibala's wish to stay till the function. Anandibaa gets tensed and worries about her lie getting caught. She shares her tension with Gunjan, while the latter pretends to help Anandibaa.
Ahead, Aarav entertains Emily inside their room and feels scared of losing his dream. He determines to save Emily from getting exposed, while Kanchan keeps an eyes on their room and ask them to stay inside it till the drama gets over.
Jaman gives money to artists in order to act inside Sanghanis house. He plans to fool Jaibala thinking that they are planning for the Muh-Dikhai ritual, but instead the latter gets suspicious. Gunjan handles the situation in front of Anandibaa and gains her faith.
Later, Gunjan ask Emily to serve food to Jaibala and instructs her to wear the veil, while the latter complains about not being able to see anything. Aarav comes forward to help Emily and gives her earpods in order to follow his instructions.
Now in the upcoming episode, Gunjan will keep her leg on Emily's dress and exposes her face in front of everyone. Jaibala will get shocked seeing it, while Sanghanis becomes worried.
Jaibala will taunt Anandibaa and gives a scissor to her. She will tell that now it's Anandibaa's turn to choose in between her authorities and culture or the son, who denied to follow their traditional customs. Emily will look at Anandibaa being tensed, while the latter will keep staring at Aarav and Emily.
Will Gunjan gets successful in her cunning ploy?
Will Emily be able to impress Jaibala?
It would be interesting to see what happens next on the show.
Stay tuned with us for more news, Spoilers and written updates of Anandibaa Aur Emily.