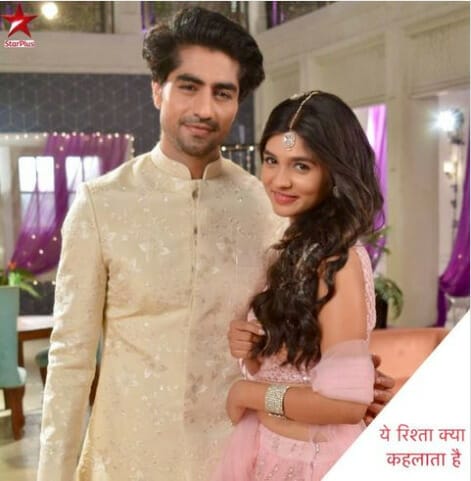 In the upcoming week, Goenkas and Birla's will prepare for Kairav, Anisha's engagement. The drama will galore in the show when Dr.Kunal will pay his surprise visit to the function. What next happens in the show will be interesting to watch. Before that quickly read highlight of the week;
This week episode started with Akshara getting smitten with Abhimanyu's birthday surprise. Abhimanyu gather Goenka's and Biral's to give grand birthday surprise to Akshara. Akshara gets overwhelmed. Arohi discloses to Abhimanyu that Akshara visited Dargah. Abhimanyu confront Akshara. Akshara tells to Abhimanyu about her search for Kunal. Kunal calls Akshara and agree to meet Abhimanyu. Akshara shares the happy news to Abhimanyu. Goenkas and Biral's get happy. Abhimanyu celebrate Akshara's birthday. Anisha returns back home and proposes Kairav for the wedding. Kairav takes a time to decide.
Towards the end of the week; Kairav decide to marry Anisha. Goenka's and Birla's gear up to celebrate pre-wedding ritual of Kairav and Anisha. Suhasini keeps a wedding condition. She says post wedding Anisha will not go back to Mumbai. She says being at Udaipur she can do anything along with Kairav but post wedding she can't go to Mumbai. Kairav tries to talk with Suhasini. Suhasini stops Kairav from interfering. Akshara says to Suhasini what if Birla's would have asked her to quit singing. Suhasini says both are different thing. Abhimanyu side Anisha. Akshara says choosing upon a career should be Anisha's choice. She adds what if Anisha will ask Kairav to quit his work. Anisha decide to quit acting. She asks Akshara not to worry as she is ready to become a housewife. Abhimanyu asks Anisha if she is sure. Anisha says she can make her decision and she is sure.
Mahima says now everything is sorted. She says she already had a talk with pandit and after 10 days Kairav and Anisha can get married. Birlas and Goenkas say it is very soon. Suhasini says she will ask her pandit ji too. She says she has planned so much for Kairav's wedding thus she can rush the wedding. Akshara and Abhimanyu convince Suhasini for Kairav and Anisha's wedding post 10 days. Mahima think before Anisha mess up more, she wants her to get settled. Suhasini agree for the wedding. Anisha assure Suhasini that she will become a good daughter-in law. Akshara worry about Abhimanyu's hand. Abhimanyu asks Akshara to not worry as his hand will be fine. He asks her to focus on her singing too along with his hand and Kairav's wedding.
Vansh, Neil and Parth congratulate Kairav. Kairav gets happy for his wedding. Neil says there is a problem. Birla's and Goenkas ask what. Neil says it is still a question Akshara and Abhimanyu will attend the wedding from which side. Manjiri says Neil scared her. Neil says they need to do a toss for Akshara and Abhimanyu. Akshara worry about Abhimanyu's hand. Abhimanyu console Akshara.
Anand thank Harsh for visiting them. Both share a talk. Harsh says to Anand that Manjiri's good up bringing made Abhimanyu and Neil a good person. Akshara asks Harsh if Kunal replied. Harsh says he already send him mail. Akshara message Kunal to help her in curing Abhimanyu's hand. Mahima give Akshara Kairav and Anisha's wedding responsibility. Abhimanyu learn about Akshara's semi-final round. He asks her to focus on her singing. Akshara share with Abhimanyu if they will be able to handle so many things together. Abhimanyu assure Akshara.
Goenkas' prepare for Kairav, Anisha's engagement. Anisha decide to purchase ring from her friend shop. Goenkas' asks Kairav to support Anisha. Anisha meets an anonymous person. Akshara spots Anisha. Anisha tries to convince Akshara that casting team is chasing her.
Furthermore, Akshara gets excited for Kairav and Anisha's engagement.
In the future episode, Kunal's entry will bring Abhimanyu and Akshara's separation. How the love birds deal with the upcoming will be watch worthy.
Stay tuned with us for more TV serial news and spoilers