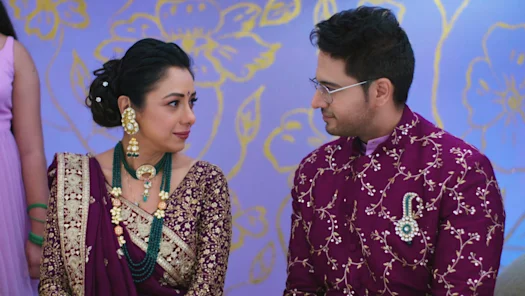 Anupama Upcoming Story, Spoilers, Latest Gossip , Future Story, Latest News and Upcoming Twist on TellyExpress.com
Unexpected twist in Anupama as Kinjal will suffer a miscarriage. In today's episode, Anuj takes Anupama to the orphan. Anuj gift balloons to the children out there. Paritosh feed juice to Kinjal. He asks Kinjal how she is feeling. Kinjal replies he is with her and everything is good.
Partiosh salute mothers for giving a birth to a child bearing the pain for 9 months. He wishes to have a daughter like Anupama and Kinjal. Kinjal says Anupama didn't give a birth to her but she took care of her like a mother.
Anupama's saree get stuck. Anu helps Anupama. Anupama feels Anu's presence. Partiosh says to Kinjal that boys are stubborn and girls are sweet. He decides to find a job. Kinjal and Paritosh decide to give a good upbringing to their upcoming child. Both decide to support each other and not to burden Vanraj more.
Anupama and Anuj find Vivaan is celebrating his birthday at the orphanage. Anuj says few celebrate the birthday at the orphanage for a show-off. Anupama asks why they are allowed to do that. Anuj says orphanage needs money too to get run.
Also, Read in Hindi:-
Anupama gets emotional hearing Anuj post he share his birthday memories. She adds she pray all the children has a right to celebrate a birthday. Anupama asks God to bless each child. Anuj cries recalling his past. Anupama gets upset seeing Anuj.
Later, Anupama and Anuj meet Anu. Anu wishes to have a father like Anuj.
In the upcoming episode, Anuj and Anupama will spend a quality time with Anu. Elsewhere, Kinjal will lose her balance while walking. Paritosh will worry for Kinjal. Will Kinjal suffers a miscarriage? Time will tell. Keep watching the show.
Stay tuned for more TV serial news and updates