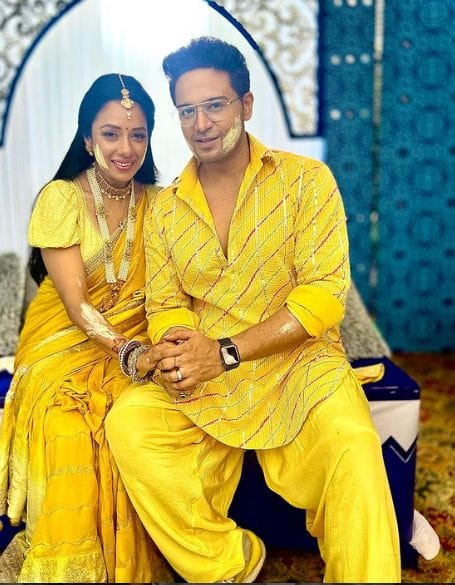 Show Anupama will see Anuj and Anupama's wedding day in the upcoming week. MaAn will celebrate haldi ceremony in the presence of Kapadia's and Shah's. Anuj will apply to turmeric to Anupama and vice versa. Both will give a promise to each other, while Vanraj will get irked seeing the duo. Vanraj and Leela does anything to hamper MaAn's wedding or not, will be interesting to watch. Before that check out what all happened this week in the show:
This week started with Anupama worrying for Anuj as furious Vanraj took Anuj with him. Vanraj asks Anuj to promise him that he will never take his place in Samar, Pakhi and Paritosh's life. Anuj assures Vanraj. Later, Shah's celebrate Anuj and Anupama's sangeet. Amid the function, Hasmuk collapses and his health news comes out in front of everyone. Vanraj and Leela accused Anupama for Hasmuk's health condition. Anupama decide to postpone her wedding and get Hasmuk operated first. Hasmuk refused to go to the hospital and insists Anupama to focus on her wedding. Vanraj alert Anupama he will not spare her if anything wrong happened with Hasmuk. Anupama prays to God to save Hasmuk. Towards the end of the week; Shah's gear up to celebrate Anuj and Anupama's haldi. Devika says to Anupama that latter has a first right to apply turmeric to Anuj. Malvika and Anuj sides Devika. Anuj says to Anupama that she has a right and she should show it. Anupama looks at Kanta. Kanta asks anupama to go for it. Hasmuk too asks Anupama to apply haldi to Anuj. Anupama prays to God and stands up to apply haldi to Anuj. Samar stops Anupama. He asks to play music. Shah's dance along with Anupama and Anuj before starting the function. Anuj bows down on knees and Anupama applies haldi to him. Leela and Vanraj sit irked.
Apart from Leela and Vanraj, everyone applies haldi to Anuj. Anuj takes haldi bowl to Hasmuk. Hasmuk and GK too applies haldi to him. Anuj further asks Kanta to apply him. Anuj says to now it is Anupama's turn. Malvika says Anuj needs an excuse to go closer to Anupama. Leela ask Malvika if she don't have a shame saying such things in front of elder. Mavlika calls Leela young. Leela gets happy. Anuj read a poetry for Anupama. Everyone gets teary hearing him. Anuj calls Anupama 'Anapurna'. He signals Pakhi and Samar. Pakhi, Samar and Paritosh brings a covered plate. Hasmuk explains the significance of 'Anapurna'. Paritosh and Samar agrees children always avoid food made by a mother and runs behind protein shake. Anuj unveils a plate full of spices. Anupama recalls her past when Vanraj. She folds her hand in front of Anuj. Anuj along with Shah family folded hand in front of Anupama.
Anupama gets teary. Anuj applies haldi to Anupama. Anupama gets smitten. Anuj uses all the spices along with haldi to make the ceremony special for Anupama. Leela taunts Anupama. Malvika gives a befitted reply to Anuj. Anuj asks Anupama to move on leaving behind her past with new memories. Anupama gaze at Leela and Vanraj.
Anuj raises a question why a housewives or a mother is always found in a kitchen. He says a women should be given a one day a break from the kitchen. Anuj says this thought should be practice as a mother needs a holiday too. Anuj promise Anupama that she will never be seen in the kitchen always. He adds he too will cook for her post wedding.