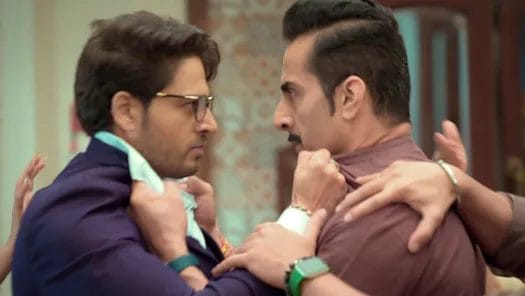 In the upcoming week, Anuj will slip into coma. While, Kavya will file a case against Vanraj for pushing Anuj off the cliff. Will Anupama be able to save Vanraj on Leela's request? Well, time will only tell. Here we bring a recap of the week;
This week episode started with Anupama fearing for Anuj. She tries to stop Anuj from meeting Vanraj. Anupama sensed something bad is going to happen. Anuj decide to meet Vanraj. Kapadia and Shahs complete the puja at the temple. Anu and Anupama wait for Anuj. Anupama performs the puja alone. Kavya spots Vanraj with Anuj and chases them. Samar gets a call from inspector. Kapadias and Shahs learn that Anuj and Vanraj met with an accident.
Anupama along with others runs to see Anuj and Vanraj. Anuj and Vanraj are treated. Vanraj regains his consciousness while, Anuj underwent brain surgery. In the meantime Vanraj decide to meet Anupama. He recalls the accident.
Towards the end of the week; Hasmuk and Leela meet Vanraj. Kavya talks with Paritosh and says it is difficult for parents to see their child in this condition. She says doctor has given painkiller to Vanraj. Hasmuk asks Vanraj to get well soon. He calls him strong and says he has many things to do in life. Vanraj asks about Anuj. Hasmuk inform Vanraj that Anuj is being operated. Leela asks Vanraj not to worry. She adds can never believe that he has done anything wrong with Anuj. Leela says even if God will come and say than also she will not believe.
Anupama takes care of GK. Ankush asks Barkha's update from Adhik. Adhik says he cannot connect with Barkha yet. Paritosh give his support to Anupama. He says he knows it is always Samar who comes for her rescue but this time he is with her. Anupama asks Paritosh to bring juice and biscuits for Hasmuk, Leela, Gk, Kavya and others. Paritosh feed juice to Anupama. Samar console Anupama. Anupama feels weak.
Anu miss Anuj. Kinjal urges Dolly to take Anu to the hospital. She says Anu's trauma can't be decoded. Dolly decides to take Anu and Pakhi to the hospital. Anupama recall Anuj left a message for him. She checks the message. Anuj confesses his love for Anupama. Samar takes Anupama to Anu and Pakhi. Anupama says after having juice she was feeling weak but seeing Anu and Pakhi she is feeling good. Pakhi says to Anupama that she saw Vanraj in ICU. Anupama asks Pakhi not to worry as Vanraj will be fine soon.
Pakhi regret disrespecting Anuj and says she will apologize once he will regain his consciousness. She asks Anupama not to worry as nothing will happen to Anuj too. Anu gives family snap to Anupama. She asks Anupama to make Anuj wear a bracelet once he regains consciousness. Dolly asks Anupama not to worry about Pakhi. Pakhi asks Anupama not to worry about Anu too. Anupama asks Samar to drop Dolly, Pakhi and Anu.
Kavya meet Vanraj. Vanraj asks Kavya to call Anupama. Anupama meet Vanraj. Vanraj tries to tell Anupama about the cliff incident. Samar overhears Anupama and Vanraj's talk. He confronts Anupama. Anupama says Vanraj can't push Anuj off from the cliff. She shows her believe on Vanraj. Samar says Vanraj confronted. Anupama says he told the half-truth.
Barkha come and asks Ankush and Adhik about Anuj and Vanraj. Ankush asks Barkha if she is behind Anuj's condition. Barkha says to Adhik that she isn't a criminal. Doctor asks Paritosh to choose a ward for Vanraj as he is recovering and they will shift him soon. Anupama asks Paritosh to select best room for Vanraj. Leela says they can't afford pricey room. Anupama asks Paritosh to send Hasmuk and Leela to the home.
The upcoming episode will be interesting with Kavya filing case against Vanraj. Will Leela and Hasmuk be able to save Vanraj? Keep watching the show to know more!