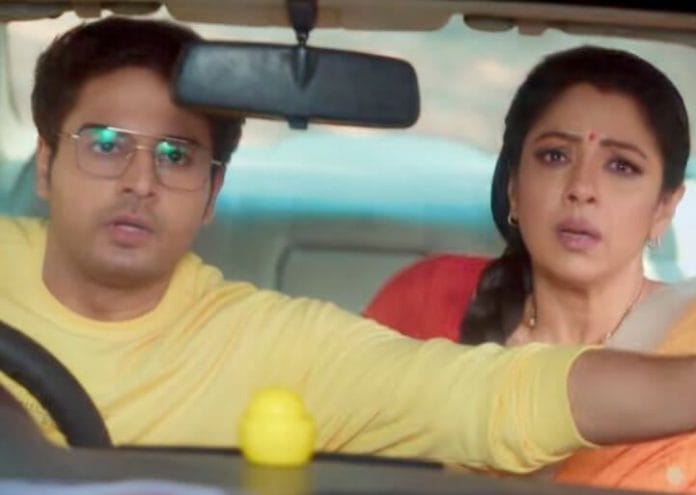 Anupamaa Spoilers, Upcoming Story, Latest Gossip , Future Story, Latest News and Upcoming Twist on TellyExpress.com
Anupama's new journey begins with Dimple and Nimrit. She will lose her memory and will forget Shahs and Anuj.
In today's episode, Nimrit tell to Anuj, Anupama that his parents where against his wedding but his mother called him back. Anuj says well. Dimple says she is happy at least one family accepted. Anupama asks Dimple to always remember Parents always love them. Dimple says they were excited to meet Nimrit's family but bus tyre got punctured and they got stuck. Anupama asks Dimple not to worry as they will drop them safely. Anuj stops the car at roadside restaurant.
Anuj, Anupama, Dimple and Nimrit share table at restaurant. Jeep boys interfere. Anuj decide to teach a lesson to the boys. Anupama stops Anuj.
Anupama spots boys out there eyeing upon them. Samar and Paritosh decide to hide Pakhi's truth from Anupama. Anupama learns Pakhi shifted near Shah house. She gets irritated.
Boys tease Dimple. Anuj gets angry and decide to teach a lesson to boys as they are misbehaving. Anupama controls Anuj. Dimple excuses herself to the washroom. Anupama accompanies Dimple. Dimple share a talk with Anupama. Anupama, Dimple is chased by a boy
In the upcoming episode, Dimple will give an earful to the hooligan out there. Boy will decide avenge upon Dimple for bad mouthing. Anuj, Anupama will try to save Dimple and Nimrit. They will be beaten too in the process. Will Anuj, Anupama get separated forever or there is more to the story? Keep watching the show for more entertainment.
Follow us for TV serial news and spoilers