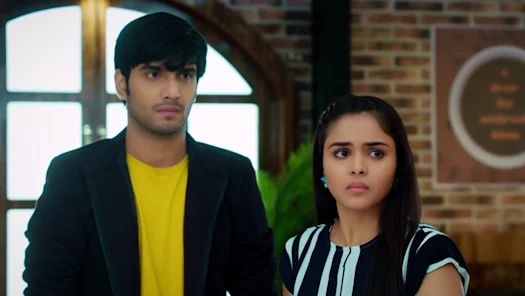 Anupama 10th August 2022 Written Update on TellyExpress.com
In today's episode, Anupama regret keeping puja at the temple. Doctor informs Kapadia and Shahs that Anuj and Vanraj are critical. Ankush asks Doctor not to worry about money and just save Anuj. Hasmuk worry for Vanraj. Anupama says Anuj is not only her husband but friend and life too. She urges Doctor to save him. Doctor says that both the patient is serious and they need to do immediate surgeries. He asks to do the formality. Samar asks if they will be saved. Paritosh asks Samar not to think negative. Doctor asks to sign the consent form.
Hasmuk decide to fill the form. Paritosh asks Hasmuk to relax. He asks Samar to take care of Paritosh. Leela and Kavya cry and ask Anupama who put an evil eye on both the families. Dolly asks Kinjal to have milk. Kinjal worry for Vanraj and Anuj. Pakhi put Anu to the sleep. She says Anu is sacred learning about accident. Pakhi says she is asking about Anuj continuously. Kinjal console Pakhi. They wait for Paritosh's call. Ankush asks Adhik were where he. Adhik inform he went for an important work. He adds he came immediately post learning about the accident. Ankush says he was having problem with Anuj and Vanraj, and if he is behind the accident. Adhik asks Ankush to stop talking anything. They further think if Barkha is behind the mishap. Ankush tries to connect with Barkha.
Anupama asks Kinjal to take care of the family. Kinjal asks about Vanraj and Anuj. Anupama says they will learn about the exact condition after 42 hours. She asks Kinjal to take care of Anu. Kinjal assures Anupama. Leela says doctor didn't allow her to see Vanraj's face. Hasmuk worry what Anupama might be going through as one side her husband and other side her kids father is struggling for their life. Anupama decide to be strong.
Paritosh asks Ankush to sign on Ankush's declaration form. Ankush about to sign but Anupama stops him. Anupama decide to sign on the papers. She says nothing will happen to Vanraj and Anuj. Anupama recall Vanraj call Anuj to meet him. Ankush confront Kavya. He asks Kavya to tell the truth as she was present at the moment. Samar asks Kavya to tell the truth. Anupama asks Kavya to tell whatever she knows. Kavya stand mum. Kavya tell to Anupama that she chased Vanraj's car. She adds Anuj and Vanraj were already at cliff edge before she reaches them. In the meantime, nurse informs case us critical. Leela pray for Vanraj. Anupama asks to pray for Anuj too. Paritosh pray for Vanraj and Anuj. Kapadia's and Shah's talk about life unpredictability. [Episode Ends]
Precap: Anupama cry for Anuj. Doctor comes up with a shocking update about Vanraj Shah.
Also See: