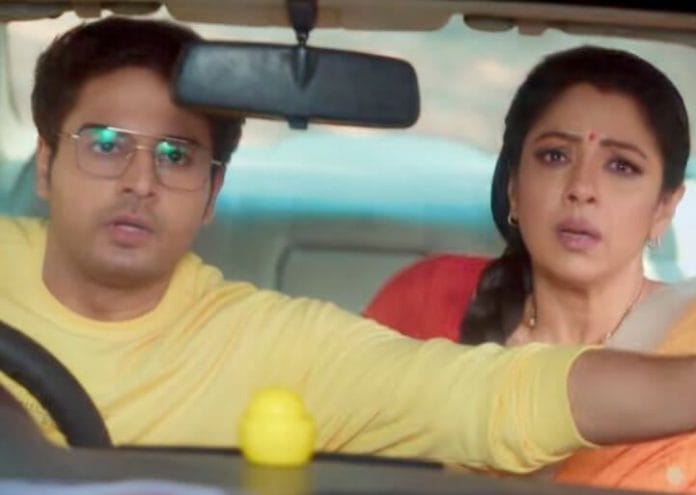 Anupama 10th January 2023 Written Update on TellyExpress.com
In today's episode, Dheeraj asks Anuj if he is waiting for the ice to melt. He asks Anuj to check upon Anupama. Anuj refuse to see Anupama. He says he can't make her feel guilty. Dheeraj asks Anuj what is the matter. Anuj tells to Dheeraj about the past. Dheeraj asks Anuj if he regret voicing himself. Anuj share with Dheeraj that he doesn't understand why he wants to change Anupama when he loved her the way she is. Anupama breaks down seeing rose petals.
Vanraj waits for Kavya. He says which movie late night shooting is going on. Vanraj gets shocked seeing Kavya returning back with three other boys. Kavya apologize to Vanraj for being late. Vanraj leaves the place. Samar asks Dimple not to be shocked as he just said he like her. He adds he is like his mother as they both speaks up if anything comes in their mind. Dimple blushes.
Kavya share with Vanraj about her first shooting experience. She share with him and says the cast and crew is supporting and director too. Vanraj asks Kavya why she wasn't receiving his call. Kavya says she was busy in her shoot. Vanraj says if she was so busy to give him a reply. Kavya says he too used to ignore him when he used to be in meeting. Vanraj says meeting is different from shooting. Kavya says both are professional. Vanraj asks Kavya who came to drop her. Kavya says crew member. Vanraj asks why she didn't call him. Kavya ignores Vanraj.
Anuj share with Dheeraj and says he doesn't want to hurt Anupama but he is ending up doing the same. He regrets his action towards Anupama. Anupama feels guilty. Dheeraj asks Anuj to stop correcting Anupama and start accepting the way she is. He makes Anuj understand that Anupama can't get tough with Shahs post spending 26 years with them. Dheeraj asks Anuj to not let go Anupama else he will end up being alone like him. Anuj gets shocked learning Dheeraj's wife Priyanka is no more.
Anupama wish Anuj doesn't disown her. She confesses she can't live without Anuj. Leela asks Vanraj if he is upset with Kavya doing modelling. She asks Vanraj to stop her. Vanraj says he can't stop Kavya because latter lost her job because of him.
Anuj asks Dheeraj why he didn't told about Priyanka earlier. Dheeraj tells his back story about losing Priyanka because of his ego. He regrets listening to ego over heart. Dheeraj asks Anuj not to make a mistake like him. [Episode Ends]
Precap: Devika and Dheeraj will help Anupama to regain Anuj's trust. Anupama decide to win back Anuj.
Also See: