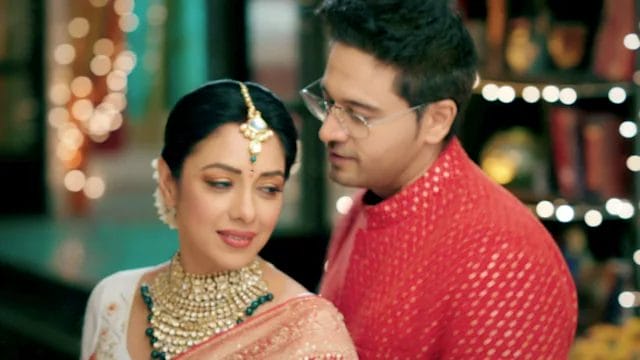 Anupama 10th November 2022 Written Update on TellyExpress.com
In today's episode, Kavya informs Vanraj that Pakhi will stay with them until wedding. Vanraj stands stunned. He asks Kavya if Pakhi's marriage is taking place at their house. Kavya tells to Vanrj about Pakhi's wedding plan. Vanraj says he needs to walk out from the house if Pakhi is coming. Kavya tries to convince Vanraj to be with Pakhi on his big day.
Anuj tells to Anupama that he has booked caterers. He asks Anupama to enjoy other function. Anupama says to Anuj that he is already doing for Pakhi. Anuj says to Anupama that Pakhi is her daughter thus he can do best for her. Anupama says if house belong to her than Pakhi can't stay at Kapadia house.
Adhik tries to convince Pakhi to go to Shah house. Pakhi gets offended. Barkha interrupts and tells to Adhik and Pakhi that she can't miss her brother wedding. She says Adhik is like a son to her. Barkha shows necklace to Pakhi and says she got them for Adhik's wife but her wedding is taking place at Shah house. Anuj says to Anupama that he just want to do something for Pakhi and Adhik. Anupama says to Anuj that if he wants to do something for Pakhi than he should throw Adhik out from the house. She adds once Adhik and Pakhi will be out from the house they will learn their responsibility.
Also, Read in Hindi :-
Barkha manage to convince Pakhi that Anupama doesn't want a lavish wedding for her. Adhik asks Pakhi to remember that he just stays at Kapadia house but he isn't a one. He asks Pakhi to remember their status. Shahs prepare for Pakhi's wedding.
Anupama and Anuj talk with each other. Anupama says instead of spending so much money on wedding he can invest on Pakhi's education and more other valuable thing. Pakhi over hears Anupama and Anuj.
Paritosh reject the job offer. He share with Shahs that he isn't ready to face the world. Pakhi confront Anupama about stopping Anuj from spending money on her wedding. Kinjal tell to Shahs about joining Rakhi's business. Kavya feels proud of Kinjal.
Pakhi claim Anupama if she is jealous of her. Anupama stands stunned. Barkha smirk seeing Pakhi and Anupama's fight. Anupama gets restless thinking about Pakhi's word. Anu asks Anupama if she is sad. Anupama says she is tired.
Anupama give traditional saree to Pakhi. Pakhi gets offended and call saree cheap. Adhik asks Pakhi to accept the saree as Anupama brought it with love. Pakhi demands for designer saree. [Episode Ends]
Precap: Barkha says to Pakhi that her designer lehenga can come in 20 Lacs. Devika returns and makes a deal with Barkha.
Also See: