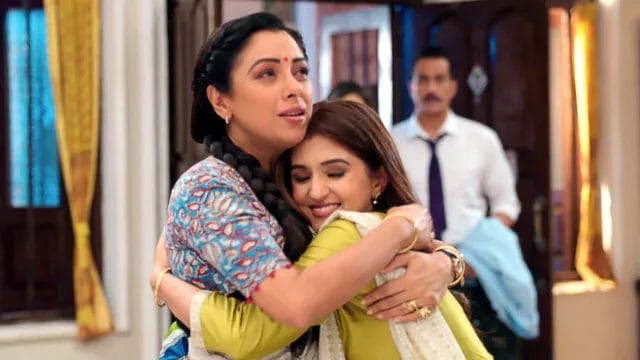 Anupama 11th August 2022 Written Update on TellyExpress.com
In today's episode, doctor informs Kapadia and Shahs that Vanraj and Anuj is critical but they are shifting them to ICCU. He says they can see them. Anu dream Anuj and Vanraj is fine and they have decided not to fight. She smiles in her dream. Kinjal, Dolly and Pakhi say Anu might be seeing a good dream. Dolly says she wish Anu's dream comes true. Anu wakes up and asks about Anuj and Vanraj. She insists Pakhi to take her to Anupama. Dolly and Pakhi convince Anu to sleep more.
Anupama and Kavya see Vanraj and Anuj. Both cry. They recall their moment with their husbands. Anupama and Kavya recall their wedding. Kapdias and Shahs recall their moment with Anuj and Vanraj. Samar prays to God to save both Vanraj and Anuj. He says Vanraj and Anuj are sailing on same boat today despite being so different from each other. Anupama says outside hospital and on operation bed everyone is equal. Kavya says no one can imagine Vanraj and Anuj might be struggling for their life someday. Doctor informs Shahs and Kapadia's that next 42 hours is critical for Anuj and Vanraj. Anupama asks what after 42 hours. Doctor says it will be dangerous if Anuj and Vanraj will not regain their conscious soon.
Kavya says Anuj and Vanraj should not have gone to the cliff. She recall the incident and reveal to the families that before she reach Anuj and Vanraj, both fallen from the cliff. Ankush accuse Vanraj for pushing Anuj off from the cliff. He says Vanraj threatened Anuj. Leela says Vanraj threatened doesn't prove he pushed Anuj from the cliff. Leela and Ankush argue with each other. Anupama asks both the families instead of fighting they should pray for Anuj and Vanraj as they are struggling for their life. She shows her believe on Vanraj and says latter is bad but he can't take anyone's life.
Anupama receives Anu's message. She cries. Samar breaks down. Anupama console Samar and asks him not to cry as this too shall pass. Doctor inform Vanraj has started responding to the medication. Shahs get relaxed.
Anupama asks about Anuj. Doctor informs Anuj is not showing progress. He adds he is shifting Vanraj to the ICU and they can meet him. Doctor tells Anuj will stay back at ICCU. Anupama breaks down. Hasmuk asks Anupama to stay strong. Anupama worry why Anuj isn't responding to the treatment. Leela console Anupama. Anupama cry recalling her moment with Anuj. [Episode Ends]
Precap: Anupama meet Vanraj. Vanraj tries to reveal about the cliff incident to Anupama. Anupama is stunned.
Also See: