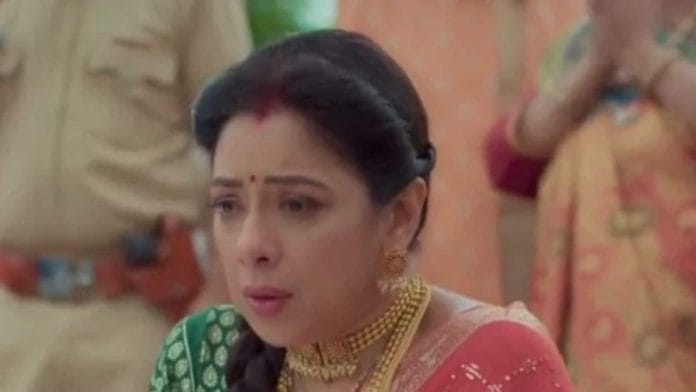 Anupama 11th November 2022 Written Update on TellyExpress.com
In today's episode, Pakhi says to Anuj that Anupama's thinking is middle class. She asks him to understand that she can't do wedding in basic clothes. Pakhi asks Adhik and Ankush if they will wear basic clothes on their wedding. Anupama asks Pakhi to stop her emotional blackmail. She says it will not work. Anupama add if Pakhi wants to wear lehenga on her big day than she can wear but in the function she has to wear the basic cloth. Adhik asks Anupama not to worry as Pakhi will wear the clothes of her choice.
Anuj, Anupama decide to go to temple. Barkha hatches a plan. Ankush asks Barkha what she thinking. Barkha says to Ankush that she will come back soon. Anuj, Anupama, Pakhi and Adhik visit Shahs. Barkha apologize to Leela. Leela disbeliefs Barkha is apologizing. Vansh sees Pakhi and gets upset.
Kinjal meet Anupama. Anupama about to take Pari. Pakhi takes Pari. Kinjal meets Anupama. Anupama gets happy. Barkha discloses to Pakhi about expensive lehenga. Pakhi likes the lehenga and demand for the same attire. Leela against Pakhi's expensive lehega. Pakhi asks Leela what problem she has when Anuj has to pay for it. Leela says Pakhi is robbing Anuj blindly. Pakhi asks Leela not to lecture her like Anupama. Barkha adds she has also selected a matching sherwani for Adhik. Adhik stand mum.
Kavya tries to convince Pakhi to wear basic clothes for Anupama's sake. Pakhi asks Kavya why she didn't wear the basic cloth on her wedding day. Kavya says because her wedding happened at resort. Pakhi and Kavya argue.
Barkha asks Pakhi not to worry as her friend will provide the lehenga in 20 Lakhs. Devika makes her entry. She says to Barkha that her offer is expensive as she can get the same lehenga and set-up in Shahs budget. Devika shows the sample. Pakhi likes it. Shahs ask Devika to start the arrangements.
Anupama keeps aside the basic cloth purchased for Pakhi. Devika meet Anuj and Anupama. She asks her not to worry as Pakhi's wedding will take place smoothly. Pakhi tries to offer water to Vanraj. Vanraj leave the place. Anupama lecture Barkha about suggesting 20 Lakhs lehenga. She says more the money emotions matter. Barkha asks Anupama why she can't value Pakhi's dream. Ankush asks Barkha about change in her attitude.
Kavya likes the saree made by Anupama. Leela praises Anupama. Devika joins Kavya, Leela.
Anuj asks Anupama to smile. Anupama think Anu understands easily but she is done with Pakhi. Ahead, Shahs prepare for Pakhi's sangeet. Pakhi misses Vanraj. Kavya tries to convince Vanraj to join the function. Vanraj gets adamant. Pakhi cries. [Episode Ends]
Precap: Shahs and Kapadia enjoys sangeet. Anupama slaps Pakhi for an unknown reason and throws her out from the house.
Also See: