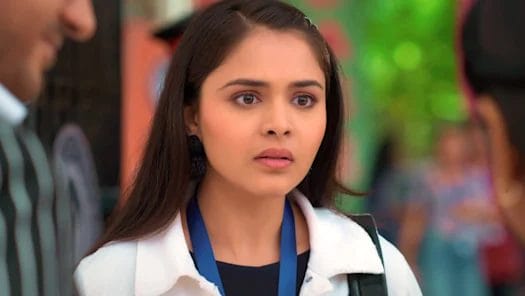 Anupama 12th August 2022 Written Update on TellyExpress.com
In today's episode, Vanraj is shifted to ICU. He regains consciousness. Kavya tells to Leela, Samar, Hasmuk and Paritosh that Varaj is reganing consciousness. Samar says something is bothering Vanraj. Vanraj recall his moment with Anuj. Anuj ask Vanraj to side the car. Vanraj stops the car. Anuj asks Vanraj if he is scared to talk with him. Vanraj says he isn't scared of him. He accuses Anuj for trying to replace him in his kid's life. Anuj says he didn't break his promise. He asks Vanraj to finish the talk as he has to return to his family. Vanraj says he snatched his family. He says during Rakshabandhan his whole family went to him. Anuj says to Vanraj that his family is with him is not his mistake. He adds Shahs keep doing drama. Anuj ask Vanraj what he want
Vanraj asks Anuj to convince Anupama to distance herself from Shahs. Anuj says he too want Shahs and Kapadias to meet occasionally. Vanraj says not even occasionally. Anuj says to Vanraj that who is he to dictate others. Vanraj asks Anuj to stop blabbering and understand him. Anuj says to Vanraj that he himself doesn't follow Hasmuk's order but want others to understand him. Vanraj accuse Anupama for snatching Hasmuk. Anuj and Vanraj's fight gets intense. Back to reality; Vanraj gets restless. Doctor treats him. Kavya worry if something bad will happen with Vanraj. Anupama asks Kavya to stay positive.
Kavya asks Anupama from where she brings so much strength. Anupama says Kanta have taught her to always be positive. She adds nothing will happen to Vanraj and Anuj. Doctor informs Anupama that Anuj's brain has a clotting and surgery is needed to be done. He talks about the risk. Anupama asks doctor to perform a surgery and try to save him. She sees Anuj and says they already have fought big fights and this too shall pass.
Anuj is taken for the surgery. Anupama and GK see Anuj. Anupama pray to God for Anuj's recovery. Doctor and his team discuss about operation complication. He asks his junior to be careful. Elsewhere, Vanraj regains consciousness back. Samar console Anupama. Ankush asks Adhik about Barkha. He says he will not spare Barkha if she is behind the mishap.
Shahs meet Vanraj. Vanraj gets restless recalling the incident again. Shahs meet Vanraj. Adhik discuss with Ankush and says in Anuj's absence they need to handle the thing. Anupama gaze at Ankush and Adhik. [Episode Ends]
Precap: Vanraj tells to Anupama that he pushed Anuj off the cliff. Samar over hears Anupama and Vanraj's talk. Leela pleads Anupama to not send Vanraj to the jail for pushing Anuj from the cliff.
Also See: