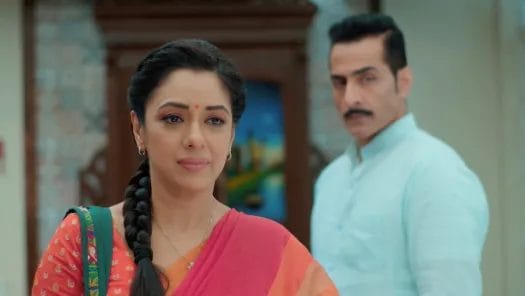 Anupama 12th May 2022 Written Update on TellyExpress.com
In today's episode; Anupama recalls Hasmuk's condition and Vanraj's accusation. She breaks down. She recalls her past with Hasmuk and question why he does so much for her. Anuj console Anupama. Anupama tells to Anuj how much important Hasmuk is to her. She told him how Hasmuk has always filled the gap of a father in her life. Anupama, Anuj hugs each other. Anuj accuse himself too for Hasmuk's condition. Anupama gets angry on herself for not being able to see Hasmuk's pain. She says she is not a good daughter. Anupama adds if because of her wedding anything would have happened to Hasmuk than she would have never forgiven herself. Anuj sit teary hearing Anupama. Anupama worries if anything will happen to Hasmuk, she will not be able to handle. Anuj asks Anupama to stop crying and encourages herself to look after Hasmuk. He tries to boosts Anupama's morale. Samar calls out Anupama.
Anupama apologize to Hasmuk for not being able to see his pain. She add why he kept her happiness before her health. Vanraj and Hasmuk gets irked. GK feels bad for not revealing about Hasmuk's health. Kanta says a father always makes a sacrifice but Hasmuk didn't even bothered about his health for Anupama. Devika and Malvika praises Hasmuk's courage.
Hasmuk apologize to Anupama for not able to keep his promise and made her cry because of him. Anupama says until Hasmuk gets well, she decide to postpone the wedding. Hasmuk gets stubborn. He announce until Anupama's wedding will take place, he will not to go the hospital. Anupama, Leela and others tries to convince Hasmuk to go to the hospital. Anupam asks Vanraj to get ready as they will take Hasmuk to the hospital. Hasmuk says if she will take him to the hospital, than he will not return alive. Anupama, Kinjal, Anuj, Vanraj, Leela and Dolly stand shocked.
Rakhi praise Hasmuk. She add being a mother she can relate as she too can go to any extreme for Kinjal. Anuj and Anupama tries to convince Hasmuk. Hasmuk says he will go to the hospital only after Anupama's wedding. He pleads Anupama to change her decision and give him a chance to bid adieu to her. Anupama asks Hasmuk to promise her that he will take care of herself until wedding happens. Hasmuk asks Shah's to enjoy. GK apologize to Anupama for not telling about Hasmuk's health. Anupama asks GK not to apologize. [Episode Ends]
Precap: Anupama and Anuj gets ready for Haldi. Dolly along with Paritosh, Samar invites Leela and Vanraj
Also See: