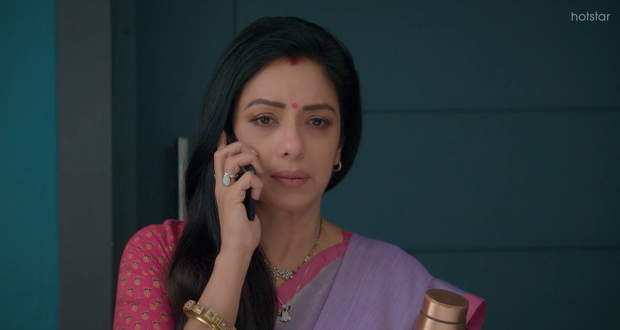 Anupama 12th September 2022 Written Update on TellyExpress.com
In today's episode, Barkha talks with Ankush and says Rakhi's attitude seems she will do drama today. Ankush asks regarding. Barkha says regarding Partiosh it seems. Anupama asks Anuj if he isn't tired. She says ceremony can take place later if he is tried and can take rest. Anuj asks Anupama not to delay the ceremony because of him. Barkha asks Anupama not to worry about Anuj as they will take care of him. Ankush support Barkha. Anupama says to Barkha that till she is with Anuj, she doesn't have to worry. Anuj side Anupama and says until she is there he needs none. Ankush says Anupama is loaded with other responsibilities. Anuj says Anupama is capable of handling everything.
Anupama asks Rakhi if she is fine. Rakhi says maybe and stares at Paritosh. A flower plate falls down and Leela scolds Anu for the blunder. She accuses Anu for keep going near to the baby. Anu hugs Anupama and cries. Meenu comes for Anu's rescue and informs everyone that plate fallen down from her hand. She says Anu already tried to stop her but it was she who wanted to shower flower on baby. Leela stand stunned. Anupama says to Leela that without learning whole truth she just scolded Anu. She add it is true under elders vision kid should meet babies but Leela accused Anu for no reason. Anupama says not only kids but elders can do the mistake too. Kinjal and Vanraj side Anupama. Hasmuk asks Leela to now say. He gets angry.
Leela apologize to Anu and says her words might be bitter but she is pure from heart. She hugs Anu and Meenu and asks not to spoil the day. Barkha tries to instigate Anuj and brings into the light that Leela didn't say a word to Meenu. Ankush says Meenu is their own. Anuj sit mum.
Shahs start Kinjal's baby naming ceremony. They suggest a name for the baby. Anupama and Vanraj say the same name 'Arya'. Everyone liked the name by Anupama and Vanraj. Rakhi says Anupama and Vanraj decided upon the same name and it is called a connection. Anupama and Vanraj give a high-fi to each other. Later, Anupama is shocked learning about Paritosh's extra-marital affair.
Vanraj asks Anupama if everything is fine. Anupama nods. Paritosh express his love for baby. He sees a beautiful future with her. Anupama decide to confess Paritosh. She makes an excuse and drags him out from the house. Pakhi decide to take picture of baby with Adhik. Samar alerts Pakhi. Pakhi asks Samar to forgive Adhik like Vanraj. Leela talk with society's ladies and asks to fine a girl for Samar. Rakhi guess if Anupama learned the truth. [Episode Ends]
Precap: Paritosh explains to Anupama that since Kinjal was pregnant he went to other girl to get his desire fulfilled. Anupama feels disgusted hearing Paritosh.
Also See: