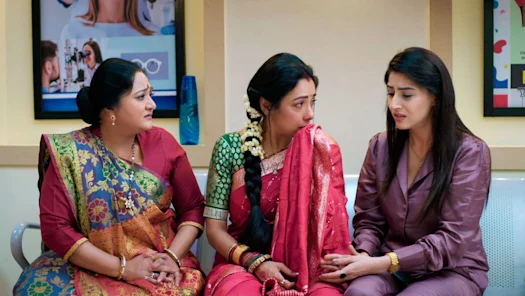 Anupama 13th September 2022 Written Update on TellyExpress.com
In today's episode, Anupama plays another girl voice message and stun Paritosh. She says Rakhi didn't tell her but she learned the truth. Anupama asks Paritosh to tell the truth else she will beat him to the blue. Partiosh tries to explain. Anupama asks Paritosh to tell her why another girl is approaching him. She add even a murderer is given a chance to explain. Anupama says what wrong he did which Rakhi knows and she is clueless. Anuj think Anupama was little disturbed but left with Paritosh. He decides to check upon Anupama. Vanraj stops Anuj and asks him to take selfie with Arya.
Also, Read in Hindi:-
Anupama asks Paritosh to open up. Pritosh tells to Anupama that since Kinjal was pregnant he needed a break for himself thus met another girl. Anupama asks to Paritosh to keep talking. Pariotsh tells to Anupama about sleeping with the girl because Kinjal was going with pregnancy complications. Anupama recall Vanraj's betrayal and stand stunned.
Vanraj, Anuj along with Shahs enjoys the naming ceremony. Anupama asks Paritosh what he meant by girl is not there in his life but exist. She goes mad at Paritosh. Paritosh asks Anupama not to react as other girl is not his girlfriend. Leela looks for Anupama and Partiosh. Kavya decide to check upon the duo. Rakhi stops Kavya and decide to check. She worries what would be happening between Anupama and Pritosh. Rakhi decide to face them.
Anupama says to Paritosh that his action raised the question on her upbringing. She feels disgusted when Paritosh explained that he didn't make a girlfriend but to get his desired fulfilled, he went out. Anupama regret giving birth to Paritosh. She says to Paritosh that today not his mother but a woman will speak. Rakhi hesitate to find Anupama and Paritosh. Anupama asks Paritosh how he will react if Kinjal will go out to get her desire fulfilled. Rakhi recall her promise with Anupama. She gets emotional.
Anupama says to Paritosh that he beat Vanraj in betraying Kinjal. She feels disgusted when Paritosh turns unapologetic. Anupama says it is very easy for men to betray their wives. She gives an earful to Paritosh fore betraying Kinjal and disrespecting her love. Anupama disown Paritosh. Paritosh asks Anupama to stop making him feel guilty as what is done is done. He says he still love Kinjal and baby. Paritosh asks Anupama to understand that men and women desires are different from every aspect. [Episode Ends]
Precap: Rakhi and Anupama argue over telling the truth to Kinjal and Shahs. Rakhi gives Anupama Kinjal and Arya's promise to hide the truth.
Also See: