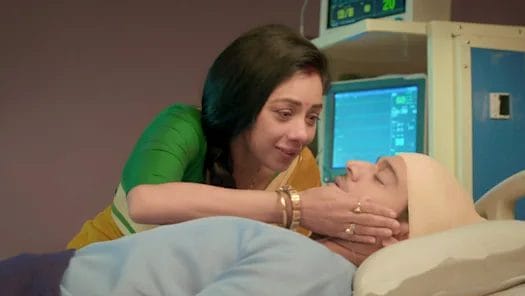 Anupama 14th September 2022 Written Update on TellyExpress.com
In today's episode, Anupama gets angry and says a man find trouble in making a cup of tea can make excuses all day long. Paritosh asks Anupama to stop lecturing him as what is done is done. He asks Anupama not to break his family like her. Paritosh says to Anupama that his daughter just arrived and let him stay in peace. He adds he has moved on from what he has done. Paritosh asks Anupama to calm. He further asks Anupama to stay quiet and not break his family. Anupama asks Paritosh if he wants her to hide the truth from Kinjal. Paritosh replies he caught him right. He asks Anupama to fix herself and attend naming ceremony.
Rakhi over hears Paritosh and Anupama's talk. Paritosh asks Rakhi to make Anupama understand to shut her mouth too for the reason she is mum. He fixes himself and attends the naming ceremony. Samar asks Paritosh if he was making lamp before lightening it. Paritosh signals Samar. Leela asks about Anupama. Paritosh says Anupama will arrive soon. Kinjal asks about Rakhi. Paritosh says Anupama was lecturing him upon being responsible and Rakhi joined her later. Leela says Anupama gives long lectures. Anuj asks Paritosh if everything is fine. Paritosh nods. Barkha says to Ankush that she feels something is fishy.
Rakhi asks Anupama to listen to her once. She says she was angry post learning the truth but for Kinjal and Arya's sake she was mum. Anupama asks Rakhi if she wants to hide. Rakhi nods. She request Anupama to hide the truth from Kinjal. Anupama is unconvinced. Rakhi says one truth will destroy Kinjal and Arya thus they have to hide the truth at any cause. Anupama says they can't simply break Kinjal's trust. Rakhi says Kinjal will break and pleads in front Anupama to hide the truth. Shahs play the game. Anupama worries Kinjal will feel betrayed if she will learn the truth later. Rakhi gives Kinjal and Arya's promise to Anupama to stop her from revealing Paritosh's truth. Anupama breaks down. She recalls Paritosh's word and feels disgusted. Anupama stand teary seeing Shahs enjoying the naming ceremony. She recalls Vanraj's betrayal and divorce and shouts loudly. Anupama thinks if she will be able to save Kinjal from turning into another Anupama. She vows to save Kinjal from becoming Anupama.
Precap: Paritosh asks Kinjal to promise him that she will never doubt on him if he ever comes back home late. He adds he will never betray Kinjal. Anupama asks Paritosh to have some shame. Shahs stand stunned.
Also See: