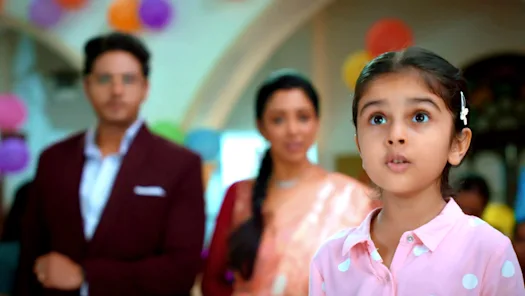 Anupama 16th August 2022 Written Update on TellyExpress.com
In today's episode, Barkha says Anuj met with an accident and none complaint to the police. Kavya says to Barkha that there is no need of investogation as she was a witness of the incident. Barkha says to Kavya that she is stoping investigation because it is against Vanraj. Paritosh asks Barkha if she meant Vanraj pushed Anuj and later jumped off too. He asks to talk a logic. Barkha says she just want a police investigation. Leela counter Barkha. She asks Barkha if she is so concerned about Anju because of his property.
Barkha says she want to see Vanraj behind the bar. She add she isnt bothered who is tagging along with Vanraj to the jail. Barkha says Vanraj or his parents or kids whosoever wants to save Vanraj can go to the jail too. Anupama stops Barkha. She side Shahs. Barkha gets furious and raise a question on Anupama's character. She asks Anupama if she still have a soft corner for Vanraj. Barkha adds thus she is siding Anupama.
Anupama asks Barkha she should thank her stars for accusing her at the hospital else she would have shown her what happens when anyone does her character assasination. Leela says she can accuse Anuj would have pushed Vanraj and would have fallen later.
Shahs and Kapadias argue with each other. Adhik says Vanraj threatened Anuj in front of all. Paritosh side Vanraj. Barkha gets adamant to file a complaint. She adds she will destroy the one who will try to come in between. Anupama says to Barkha that she can do whatever she wants. She further gets a call from doctor.
Anupama runs to sees Anuj. Anuj regains consiousness. Anupama gets elated. Shahs gets elated. Barkha gets furious. Anupama asks Anuj to wake up as she has been waiting from long. She tie the bracelet given by Anu. Anupama asks Anuj to wake up. She makes him hear Anu's voice message. Anuj opens his eyes. He confesses his love for Anupama.
Anupama gets happy says I love you to Anuj back. Barkha think destiny is siding Anuj and Anupama as he is regained consiousness soon. She says Anupama should confirm from Anuj about the cliff incident before he falls asleep again. Anupama makes Anuj see the family. Shahs and Kapadias wave hands. Anuj recall the cliff incident and gets restless. (Episode Ends)
Precap: Vanraj says to Anupama that whatever has happened was not right. Anupama gets angry on Vanraj and asks him to shut his mouth else she will raise her hand. She further holds Vanraj responsible for Anuj's condition.
Click to read: