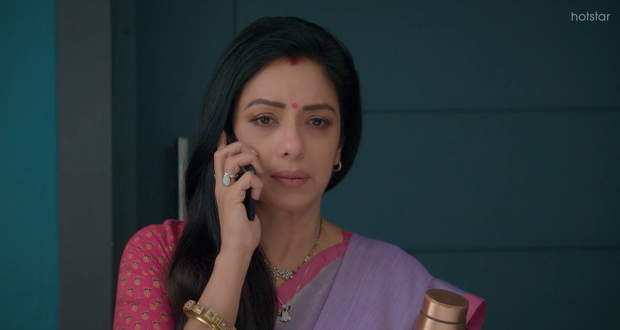 Anupama 16th September 2022 Written Update on TellyExpress.com
In today's episode, Anupama asks Paritosh about the second girl. She asks Paritosh if the other girl knew he is a husband and a father. Anupama adds the other girl is also a daughter of someone. She feels disgusted as Paritosh isn't a guilty. Anupama says she is clueless how men keep so much of ego. She adds a betrayal is a betrayal and recalls her past. Anupama says she was in a dark for 8 years but she won't let Kinjal suffer like her thus she told to her. She add only Kinjal has a right to give a punishment to Paritosh.
Paritosh asks Kinjal not to listen to Anupama. He accuses Anupama for breaking his family. Paritosh add Anupama doesn't belong to today's gen thus she don't understand anything. He asks Kinjal to believe him that he loves Arya and her the most. Paritosh says she promised Rakhi too. Paritosh asks Kinjal to believe him. Kinjal says like other girl she will not ask Paritosh where she was wrong. She gets confident that her love for Paritosh was pure still he betrayed her. Leela says such talk if comes on TV than they change the channel. She says she can't hear Kinjal and Paritosh. Anupama says if they will cover the mistake it will make things worse for Kinjal. She says she knows how it feels when one is kept in a dark. Anupama says it was important for Kinjal to learn the truth. Paritosh says Anupama wants to break his family. Kinjal says he agree with Paritosh. She says like Paritosh she too will go to other men.
Kinjal says it will be nothing but will be a fling. Paritosh shouts on Kinjal. Kinjal asks Paritosh not to shout. Vanraj asks Paritosh to lower his voice. Paritosh isn't guilty. Vanraj slaps Paritosh. Paritosh asks Vanraj to understand him as men have their own needs. He adds wives over react. Vanraj slaps Paritosh. Paritosh raise question on Vanraj for betraying Anupama. Vanraj says he was guilty for betraying Anupama still they carry forwarded their marriage. Kavya adds they hide their relationship because they were guilty. She question Rakhi the reason for trying to hide the truth. Rakhi asks Kavya to shut up as she isn't a mother. Kavya says but she is a woman. Rakhi says thus she broke Anupama's house. Vanraj takes a stand for Kinjal.
Paritosh asks everyone to stop reacting. Leela and Rakhi accuse Anupama for exposing Paritosh. Anupama defends herself. Rakhi and Leela ask Kinjal to think about Arya before making any decision. Anupama says a wife is being betrayed thus Kinjal will take a decision as a wife not as a mother.
Precap: Kinjal decide to leave Paritosh. Vanraj throws Paritosh out from the house. Paritosh screams he will not spare Anupama.
Also See: