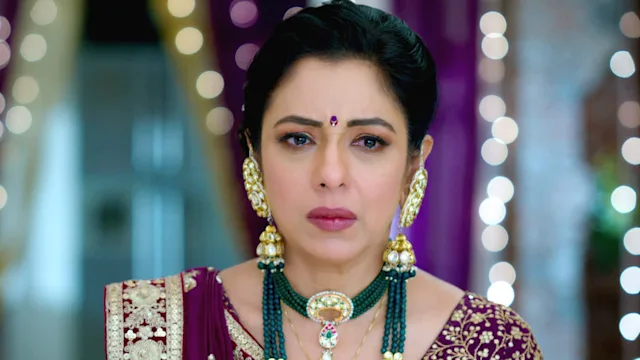 Anupama 17th August 2022 Written Update on TellyExpress.com
In today's episode, Anupama inform Anuj that Vanraj is fine. Anuj asks about Anu. Anupama tells Anuj that Anu is missing him but she cannot bring her at hospital. She asks Anuj to get well soon to meet her. Anupama tell to Anuj that Anu that made a bracelet for him. Anuj happily cries. He asks Anupama to take him back to the home. Anupama says soon. Barkha says Anupama and Anuj's romance continues everywhere. She says can't Anuj tell truth instead. Barkha worries what Anuj will tell to Anupama. Anuj's health worsen. Doctor sends back Anupama. Anupama worries for Anuj
Barkha think Anuj's health worsens means she will get a time to think. Kavya says she hope Vanraj is not behind what all happened. Anu makes a drawing for Anuj. She talks with Kinjal and says Anuj was about take her to the fairyland but met with an accident. Anu adds one day Anuj will take her to Goa. Kinjal sit teary.
Anupama worries for Anuj. Samar console Anupama. Barkha talk with Ankush and Adhik about Anuj. She says it is good Anuj's health worsens. Ankush says Anuj has transferred the property to Anupama so they should not dream about ruling Kapadia Empire. Barkha says Anupama is not in her senses. She says without Anuj, Anupama is nothing and the need to benefit the situation. Anupama gazes at Barkha. Barkha says Anupama didn't listen to them. Ankush adds but she understood they are up to something.
Also, Read in Hindi :-
Doctor informs Anupama that Anuj has slipped into coma.
7 Days Later:
Vanraj gets well.. Anupama takes care of Anuj. GK tries to cheer Anuj. Anuj lie unconscious.
9 Days Later:
Vanraj's health progress. Kavya asks Vanraj about the cliff incident. Vanraj says he don't remember anything. Shah's bring food for Anupama. Anupama takes care of Anuj.
13 Days Later:
Vanraj walks with Kavya's help. He sees Anuj and regrets. Anupama sees Vanraj. Kavya think Vanraj do not remember anything but she doubts upon Vanraj. She says Vanraj's eyes are full of guilt and Anupama is patiently waiting for the truth.
Vanraj apologizes to Anupama. Anupama accuses Vanraj for taking Anuj to the cliff. She loses her cool on Vanraj. Anupama asks Vanraj to tell why he took Anuj to the cliff. She accuses Vanraj for destroying her world again. Vanraj says he was upset with Anuj thus he took him to the cliff. He says he was angry but he didn't harm Anuj. Vanraj says he don't remember what happened that day. Vanraj asks Anupama to trust him. Anupama asks Vanraj to recall the incident. Barkha overhears Anupama and Vanraj's talk and gets happy. [Episode Ends]
Precap: Vanraj returns home. He worries he don't remember the cliff incident but what if Anuj remembers it. Anuj regains his consciousness back.
Click to read: