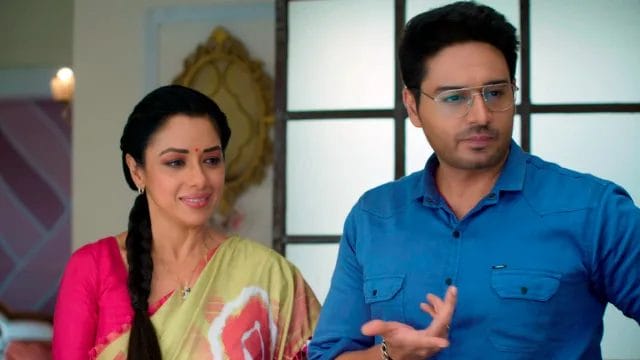 Anupama 17th September 2022 Written Update on TellyExpress.com
In today's episode, Leela accuse Anupama for breaking Paritosh and Kinjal's home. Anupama defend herself. Leela says things could have been in control if Anupama would have shut her mouth. Anupama says if she would not have spoken today than Paritosh would have repeated his mistake. Paritosh gets furious on Anupama for breaking his family. He calls her home breaker. Paritosh add Anupama can kill him if she wants to become a mother India. Anupama says she pray if Paritosh will fall low than this someday than she will not hesitate to kill latter. She says before a mother she is a woman. Anupama says judging others is fine but when it comes to own child, a mother becomes weak. She gazes at Rakhi.
Paritosh asks Kinjal not to punish him. He says they will live together. Kinjal accuse Paritosh for snatching her dream family from her. She says Anupama did right by telling the truth. Kinjal says she is not strong as Anupama to bear the betrayal. She refuses to forgive Paritosh. Kinjal decide to move out from the house. Paritosh asks Kinjal to forgive him. Kinjal says he is asking forgiveness for something he isn't guilty. Barkha says to Ankush that Shahs blood is dirty. She compares Vanraj and Paritosh.
Kinjal decide to leave Shahs. Vanraj says not Kinjal but Paritosh will go. He drags Paritosh out from the house. Leela still accuse Paritosh. Paritosh gets angry and accuse Anupama for breaking his house. He says he regret having a mother like Anupama. Paritosh says after breaking his family even Anupama will not stay happy. He curses Anupama. Anupama recall her moments with Pariotsh. Vanraj asks Paritosh to leave. Paritosh says he himself is leaving the house.
Samar asks Paritosh where he is going. Paritosh says to die. He says Anupama broke his house and curse her again. Samar asks Paritosh to call him post he cools down. Leela curses Anupama too. She says Anupama can't be happy destroying their happiness. Anupama stand mum. Arya cries. Anupama asks Kinjal to be strong and take care of Arya. Kinjal asks her baby not to cry.
Paritosh says Anupama will fix what she has messed. He calls his friend and asks for stay. Paritosh get angry. Leela get angry on Anupama for destroying Paritosh's house. Barkha accuse Anupama and says she would not have exposed Paritosh like this. Leela says Barkha and Rakhi are right. Rakhi says what Anupama did need lot of courage. She regret for not able to support Kinjal. Rakhi demand Kinjal to come back home. Kinjal refuse to go with Rakhi. [Episode Ends]
Precap: Anuj says to Anupama that she is right at her place. Kinjal gets shattered. Kavya calls Anupama and tells a shocking news about Kinjal.
Also See: