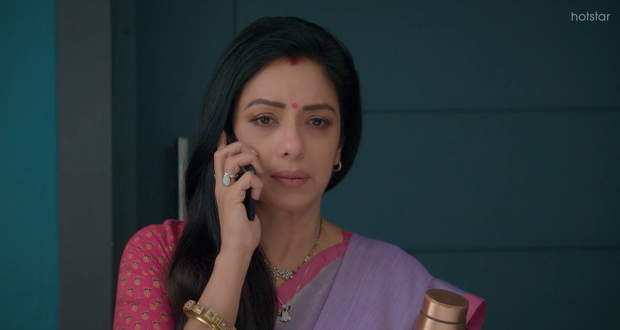 Anupama 18th November 2022 Written Update on TellyExpress.com
In today's episode, Shahs come back Vanraj gets angry on Anuj and Anupama for throwing Pakhi out from the house. He adds both were aware about Pakhi's tantrums still they threw her out. Kavya asks Vanraj not to support Pakhi on the name of childish tantrum. Samar says Pakhi was doing overboard. Leela give her support to Anupama. Vanraj stands shocked.
Anupama asks Anuj to take her out somewhere else her mind will blast. She says because of marriage they ignored Anu to. Anupama talks about Anu's school camp. Anuj agree to take Anupama and Anu out. Do not go out alarm rings for Anupama and Anuj. Adhik asks Pakhi if she wants food. Pakhi gets angry on Anupama for throwing her out from the house. She accuses her Parents for ignoring her.
Adhik asks Pakhi if she isn't realizing her mistake. He asks Pakhi to understand she isn't Kapadia or Shah. Adhik asks Pakhi to understand that she is Mehta and she should behave like the one. He promise Pakhi to give a comfortable life but she needs to support him. Pakhi stand angry.
Also, Read in Hindi :-
Anu click picture with Anuj and Anupama. The picture gets messed. Anuj asks Anu to click another one. Ankush says to Anuj that Anupama needs a break. Anupama says before leaving they want to do another important work. She calls out for Barkha. Ankush tell that Barkha is out of the city. Anupama says Barkha is equally wrong as she provoked Pakhi. She adds Barkha needs to go out from the house too. Anuj says they tried to bind the family but few relationships don't sustain together. He asks Ankush to leave the house before they return. Ankush understands Anuj and Anupama. He assure Anuj and Anupama that he will vacant the house soon. Ankush wishes good luck to Anupama and Anuj.
Adhik visit Kapadias to collect Pakhi's mobile. He asks Anupama if he can address her as mother. Anupama allows. Adhik further demand Anuj if he can give him salary in advance. Anuj assures Adhik. Anupama wish Pakhi gets some brain being with Adhik. Adhik assure Anupama and Anuj that he will take care of Pakhi.
Pakhi gets angry on Anupama for going on a trip. Adhik comfort Pakhi. Pakhi wish Anupama's trip and life gets difficult for upsetting her. Anupama along with Anu and Anuj leave the house. Vanraj decide to meet Pakhi. Shahs stops Vanraj. Vanraj feels disgusted that Anupama went on a trip. Kavya asks Vanraj not to blame Anupama. Leela asks Vanraj to let Pakhi fight her own battle. Anupama gets restless while leaving the place. Anuj assures Anupama that everything will be fine soon. [Episode Ends]
Precap: Anuj, Anupama spends quality time. Someone blocks their way.
Also See: