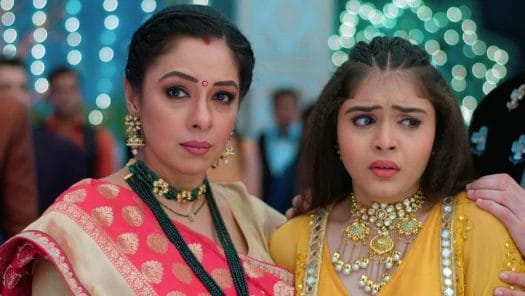 Anupama 19th August 2022 Written Update on TellyExpress.com
In today's episode, Anuj lies unconscious. Hospital staff makes Anupama understand to check the monitor. Anupama promise to Anuj that she will take care of everything in his absence. She reads poetry for Anuj. Anupama talks with sleeping Anuj and asks if he got bored hearing her poetry. She says to Anuj that she will keep reading poetry until he wakes up. Anupama says to Anuj that she knows he wants to meet Anu. She calls Anu.
Anu clicks pictures of Anuj and Anupama. She decides to keep clicking pictures and put it in the room. Anu asks Anupama when Anuj will wake up. Anupama says soon. She asks Anu to not enter Anuj's room in her absence. Anupama alerts Anu if she enters Anuj's room in her absence than she should avoid touching any stuffs out there. Anu gives her promise to Anupama. Nurse comes to check upon Anupama.
Barkha gets furious on Anupama for calling third class nurse. Anupama says she don't find anything wrong with the nurse. Barkha says Anuj deserves a good care. Anupama says she will take care of Anuj. Barkha and Anupama argue with each other over Anuj. Anupama decide to celebrate Janmashtmi and Anuj's birthday grandly. Hasmuk, Paritosh, Samar and GK plans for the occasion.
Anupama learns to operate smart watch. Paritosh asks Anupama what is the need to learn smart watch as she never forgets anything. Anupama says she is human too and can forget. Pakhi meet Adhik and share her worry with him. Adhik console Pakhi.
Barkha asks Anupama to sign the check. Anupama refuse to sign the check. Adhik and Barkha get furious and say they don't need money for their personal use. Anupama says Anuj don't want to work with the clients thus she will not sign on the check until Anuj wakes up and approves it. GK side Anupama and Anuj. Barkha disrespects GK. Anupama corrects Barkha. She further goes to check Anuj.
Adhik assures Pakhi that he will side if any police complaint is file against Vanraj. Pakhi and Adhik hug each other. Anupama informs Anu about celebrating Janmashtmi and Anuj's birthday.
Anupama asks Barkha what she was saying. Barkha gets adamant to file case against Vanraj. She accuses Anupama for supporting Vanraj. Barkha adds she don't trust Anupama likewise she don't trust her. Anupama gives a befitting reply to Barkha and asks her to stop threating or yelling on her otherwise she will make decisions on Anuj's behalf which will bring trouble for her. Barkha an Adhik gets alert. [Episode Ends]
Precap: Anupama gets excited to celebrate Anuj's birthday. Vanraj decide to meet Anuj. Barkha and Adhik plans against Anupama. They decide to throw Anupama out from Kapadia Mansion.
Also See: