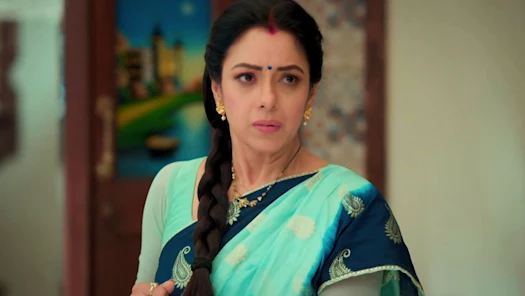 Anupama 19th July 2022 Written Update on TellyExpress.com
In today's episode, Anuj says to Anupama that Shahs didn't react much. Anupama says Samar and Pakhi understood but Paritosh will take a time. Anuj says that Paritosh is upset and he has a reason. Anupama says even Kinjal might be worrying as when she was pregnant, she too wanted Baa to be around. Anuj assures Anupama that he will support her in raising Anu so that she can look after her other responsibilities too. Anupama and Anuj divide their duties. Anuj sees painting made by Anu. Anupama and Anuj say Anu wants the family to be together.
Adhik asked Pakhi if she wasn't shocked learning about Anu. He says it wasn't needed. Pakhi listen to Adhik. Adhik shares with Pakhi that he told Barkha that he likes her. Pakhi asked Barkha's reaction. Adhik says he will meet her soon. Vanraj says to Pakhi that he doesn't like Adhik and she should stay away from him. Pakhi says if Anupama and Anuj can do whatever they want then why can't she?
Anuj and Anupama reach home. Anupama asks Anuj to pick Anu and lay her on bed as she is sleeping. Anuj asks Anupama to stay back in the car as Anu might get disturbed. He add he never hold a sleeping baby before. Anupama takes Anu. Anuj says only she can handle Anu.
Kavya talk with Vanraj and says they should adopt a baby too. Vanraj sit shocked. Anuj and Anupama put Anu to the sleep. They both confess that they need each other. Anu gets scared while sleeping. Anupama asks Anuj not to worry as kids gets sacred in sleep sometimes. Anuj says he can understand as orphans always fear if whatever they are blessed will get snatched later.
Kinjal in sleep asks Anupama to handle her baby too. Anupama wakes up and worry as Anu goes missing. Anuj and Anupama looks for Anu. Anu enjoys at the garden. Anuj and Anupama spend time with Anu. Anu demands to drink hot chocolate. Anuj and Anupama say everyone will have hot chocolate with her today.
Vanraj gets happy and inform Shahs that he got a call for an interview. Paritosh informs he too got a call for an interview. Shahs get excited. Jignesh says he too will go for an interview. Samar says he isn't got any call. Jignesh says he too was not in a mood to go for an interview. Kavya says Anu is lucky for them too. Paritosh says that Kinjal has an appointment with doctor and he will take her. Kinjal decide to go with Anupama. Vanraj says if Anupama will fetch time to go with her leaving Anu. Anu along with Sara, GK and MaAn enjoy chocolate milk. Adhik asks Barkha to support Anu so that she can be in Anupama's good books. [Episode Ends]
Precap: Anupama decide to get Anu's admission done in Pakhi's school. Pakhi objects. She asks Anupama to choose amid Anu and her.
Also See: