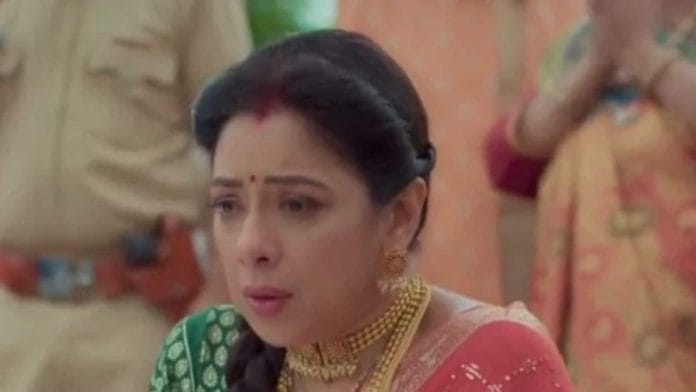 Anupama 19th November 2022 Written Update on TellyExpress.com
In today's episode, Anu decides to click lots of pictures with Anuj and Anupama. Anupama gets excited. Anuj asks Anupama if he should take short route or long one to reach the camp. Anupama suggest for long route. But Anu asks for short route. Anupama worries. Anu and Anuj enjoys the ride.
Vanraj looks for a change to give to man out there. Their neighbours confront Leela about no noise at Shah house as it is Pakhi's wedding. Vanraj asks them to focus on their house. Ladies out there says may be new drama at Shah house. Leela share with Vanraj and says everyone gets a chance to talk behind their back. Vanraj asks Leela not to stress. Adhik asks Pakhi where she is taking him. Pakhi asks Adhik to keep patience.
Anuj decide to enjoy music in the car. Anupama, Anu enjoys. Sad songs play Anupama sit stressed. Anu asks Anupama and Anuj what is called separation. Anuj tell when two people stay away from each other. Anu asks if Pakhi and Adhik are separated from them. Anupama sit stunned. Anuj covers up the talk. He asks Anupama not to feel bad as it is necessary for Pakhi to grow.
Kinjal and Kavya plays with Pari. They shockingly call out Shah. Shahs stunned to see Pakhi and Adhik with their bags. Anupama, Anuj drop Anu to the camp. Anu gets sad. Anupama asks Anu's teacher to take care and feed her on time. Teacher assures Anuj and Anupama. Anu asks Anuj, Anupama if they will come to take her back and they will not be separated. Anuj, Anupama comfort Anu. They ask Anu to enjoy her camp. Anupama's dress gets stuck. Anupama worries. Anuj talks with Anupama and share he can relate with Anu's fear. Anupama worries. Anuj asks Anupama to relax.
Anuj, Anupama decide to spend quality time together. Vanraj asks Pakhi why she wasn't receiving her call. Leela taunt Pakhi and asks if she understood her status. She bans Pakhi's entry at Shah house. Pakhi says she isn't here to stay at Shah house. She discloses she is just their neighbour. Leela calls Pakhi ill-mannered. Pakhi says she learnt from Leela only. Vanraj asks Pakhi why she thought to stay separately. Leela stops Vanraj. Pakhi says because she has to prove lots of thing to everyone. Leela worries Pakhi being their neighbour will bring trouble for both of them.
Anuj, Anupama gets stuck on the road. A jeep blocks Anuj, Anupama's way. Anuj, Anupama worries when the jeep reverses towards them. [Episode Ends]
Precap: Anuj, Anupama tries to help strangers out there. Goons attack on Anuj, Anupama
Also See: