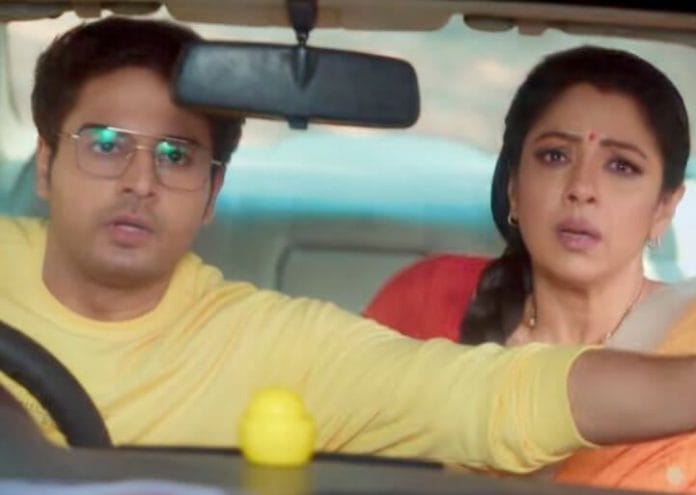 Anupama 19th November 2023 Written Update on TellyExpress.com
In today's episode, Barkha tells Malti that she never expected that Paritosh and Kinjal would leave Leela and Hasmuk. Malti says Kinjal knows Anupama is there to take care of Leela and Hasmuk. Barkha says Anupama is crazy to visit the Shahs every time. She adds that Shahs always end up calling Anupama. Anuj asks Barkha and Malti to stop blaming Anupama. He defends Anupama.
Anu asks Anuj about Anupama. Anuj checks Anu's fever. Anu demands Anupama. Malti asks Anuj to call Aunpama, as Anu is not well. Anu asks Anuj to call Anupama, as she needs her. Anuj asks Romil to call the doctor.
Anupama cooks for the Shahs. She further asks his office staff to send the file home so that she can study at night. Anupama remembers to order the ration. She further remembers ordering a drawing book for Anu. Anupama orders vegetables for the Shahs. Anuj calls Anupama to come back, as Anu is having a high fever. Anupama is perplexed. Hasmuk asks Anupama to go back. Anupama asks Hasmuk, as he will surely take care. Hasmuk assures Anupama.
Anuj asks Anu to take medicine. Anu asks Anuj to call Anupama. Anupama returns. She takes care of Anu. Anupama guesses that Anu's fever is not normal. Anuj says the doctor has the same doubt, so he called for tests. Anu refuses to take the test. Anupama convinces Anu to take the test. Anuj decides to join Anupama and Anuj. Anupama helps Anu sleep. She feeds her medicine.
Hasmuk cooks. Kavya feels sad that Hasmuk has to cook. Hasmuk asks Kavya to take a rest. Anuj asks Anupama about Leela. Anupama says there is no one to look after Hasmuk and Leela. Malti says Dimple should look after the Shahs. Anupama says Dimple is pregnant. Adhik suggests Pakhi's name. Pakhi refuses to go to the Shahs. Anupama asks Pakhi to forgive, as she expected from her. Pakhi says she can't be Shah's maid. Anuj defends Anupama.
Kavya calls out Pakhi to help. Pakhi enjoys music. Dimple lashes out at Pakhi. Hasmuk asks Dimple and Pakhi to stop the argument and leave the house. Leela's BP keeps shooting. Kavya informs Anupama. Hasmuk asks Kavya to rest. Pakhi leaves the house. Dimple and Kavya decide to bring fruits for Hasmuk and Leela.
Leela wants to go to the washroom. Hasmuk decides to help. Leela asks Hasmuk to call someone. Hasmuk gets adamant about helping Leela. Leela and Hasmuk fall down. They call out for help.
Anupama bashes Pakhi for returning. Kavya and Dimple ignore Hasmuk's call. Hasmuk asks Anupama to come. Anu asks Anupama not to go. Anupama is perplexed. Episode Ends
Precap: Anuj brings Hasmuk and Leela to the house. Malti and Barkha stand stunned. Anupama gets happy.
Also See: