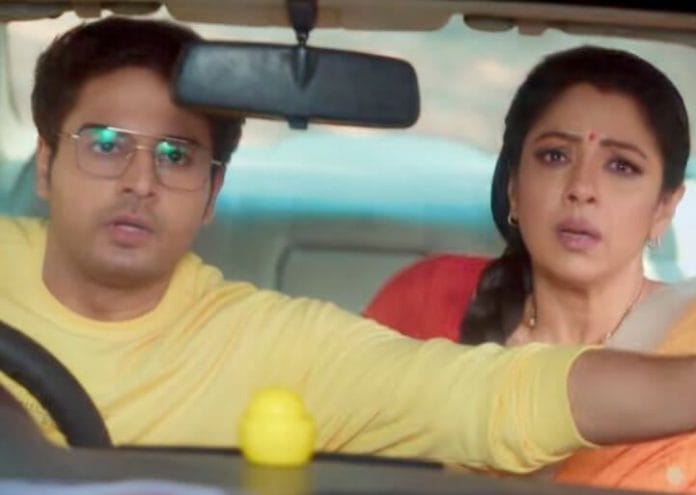 Anupama 20th January 2023 Written Update on TellyExpress.com
In today's episode, Anuj asks Barkha and Anukush if they're playing New Year prank on him and Anupama. He asks to stop making them foo. Barkha says to Anuj that she isn't lying. She tells to Anuj that Anukush has a 15 year old son. Barkha says she never had any problem with the child or Ankush's other girl but she has a problem now as Ankush wants to bring them home. Anupama asks Barkha why she was silent. Barkha tells to Anupama that she didn't have any place to go thus she was silent. Anuj asks Anukush if Barkha is saying truth. Ankush tell to Anuj, Anupama that Barkha is right. He adds the girl don't expect anything from him. Ankush says his son never demanded anything but now he wants to share time with him. He gets adamant to call his son. Ankush says to Barkha that he gave divorce option to her but at that time she ignored.
Anuj says to Anupama that Barkha might be suffocating from long. Anupama asks Anuj to talk with Ankush. Maya captures Anuj and Anupama's family drama. Leela and Vanraj confront Kavya about bringing Mohit at home. Leela says to Kavya about telling Mohit what is going around at their house. Kavya says to Leela that Vanraj's phone call made Mohit and other crew learn what he going around. Samar side Kavya. Kavya defends and says she is not a woman who gets carried away. Leela says to Kavya that they all know how she is as despite Vanraj's marital status she was having affair. Kavya says they can't change Leela's mindset. She asks Vanraj if he thinks the same about her. Vanraj confesses he is protective about her. Kavya gets adamant to work with Mohit and crew.
Leela alerts Vanraj. Kavya leave the place with Mohit and Neha. Anupama and Anuj worries about Anuksh, Anuj. Anu gets happy receiving gift from Maya. Anupama reads a note and learn Maya will come to see them during Makar Sankranti. Anuj, Anupama discuss about Maya and Anu's bond. Both decide to meet Maya on Makar Sankranti and confront her.
Anuj, Anupama, Dimple and Anu pray together. Maya captures Anu's moment. Anu asks Anupama about Uttrayan. Anupama explains. Adhik gets smitten by Pakhi. He shows love for Pakhi. Pakhi pays gratitude to Adhik for always supporting her. She decides to win Ankush and Barkha so that they can reunite with the family. Adhik and Pakhi hugs each other.
Anuj, Anupama, Anu along with Ankush and Barkha decide to celebrate Makar Sankranti. [Episode Ends]
Precap: Leela yet again goes mad at Anupama. Maya reveals her true identity to Anuj and Anupama.
Also See: