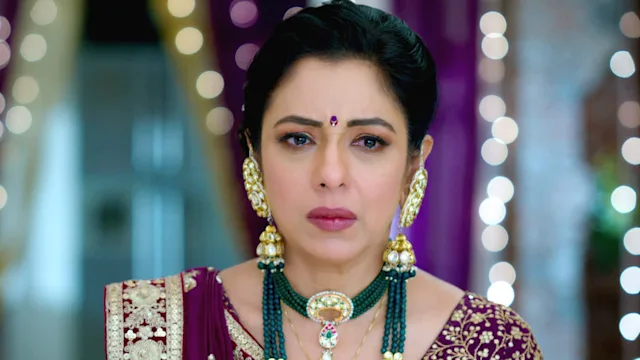 Anupama 20th July 2022 Written Update on TellyExpress.com
In today's episode, Anupama tells to Anuj that she has a class in the evening. Anuj decide to finish his meeting to be with Anu. He adds until Anu get settle one amid them should be with her. Anu click picture of Anupama and Anuj. Anuj asks Anu who gave her camera. Anu takes Sara's name. Anuj click pictures and keeps the copy with him. Anupama asks Anuj and Anu about her copy. Anu says she already has them then what is the need of photo.
Pakhi decide to meet Adhik. She gets furious when Vanraj decide to drop her to the college. Anu and Anupama accompany Anu to the breakfast. Anu sees table full of food and disclosed that at orphanage she has never seen so much food. Anupama says to Anu that at the house she can have whatever she wants. Anupama serves breakfast and sees Pakhi's number flashing on Adhik's mobile. Adhik hangs up the call. Pakhi message Adhik to tell if he isn't coming to meet him. Anu prays to God before eating food. GK says Anu is Anupama's shadow. Ankush says to Anuj if he can handle his Mumbai business. Anuj refuse to handover business to Ankush. Barkha doubts if Anuj learned the reason about their visit to India.
Anuj and Anupama decide to take Anu to the school. Barkha asks the school name. Anupama tell that they have decided to get Anu's admission done in Pakhi's school. Barkha says Anu can take admission in many good schools. Anupama and Barkha argue over high-fi and middle class school. Anuj side Anupama over getting Anu's admission in Pakhi's old school. Ankush share with Barkha and says he doubts that Anuj already know the reason about their visit to India. Adhik says it is good for them. Ankush says Anuj will feel bad as he lied to him. Barkha stand stunned.
Vanraj drop Pakhi to the college. He asks Pakhi to not break his trust. Anu sees Pakhi and Vanraj. Anupama and Pakhi argue with each other post latter learn that Anu is going to take an admission in her school which is close to her college. Pakhi asks Anupama to choose between her and Anu. Anu asks Anupama if Pakhi don't like her. Anupama and Anuj console Anu. Vanraj think Anupama didn't do right by fostering a child. He gets irked thinking Kavya too got inspired and wants to foster a child. Vanraj think Anu is troubling everyone.
Anuj decide to get Anu's admission done in another school. Anupama asks Anuj if he is angry. Anuj says little. Anu cheers up Anupama and Anuj. Anupama decide to give upbringing to Anu similar to Anuj. [Episode Ends]
Precap: Kinjal wait for Anupama to go to the clinic. Anupama stands shocked as Anu meet with an accident. Vanraj vents out at Anupama for ignoring Kinjal
Also See: