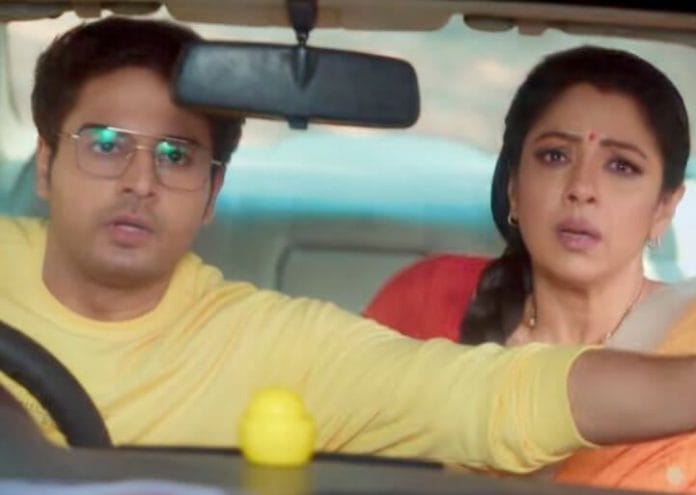 Anupama 21st December 2022 Written Update on TellyExpress.com
In today's episode, Pakhi recalls Vanraj and Adhik's word and stand teary. She walks out from the house.
Barkha says despite fighting being together both should calmly separate and live a peaceful life. Anuj gets a call from Samar. Samar informs Anuj that Pakhi is missing. Anupama, Anuj looks for Pakhi. They find Pakhi lying on the road. Anupama lies beside Pakhi. Anuj reads poetry on a mother. He says situation is tough but mother is handling it. Anuj sends Samar picture of Anupama, Pakhi. Hasmuk says a mother never gets upset with her children no matter what. Shahs stands shocked.
Anupama asks Pakhi to go home. Pakhi ask which home. Anupama asks Pakhi to decide. Pakhi walks along with Anupama. Barkha says to Adhik, Ankush that Pakhi's drama doesn't get over. Adhik receives a message and sit stunned. Barkha asks about the message. Anupama, Anuj bring Pakhi to Shah house. Anuj asks Pakhi not to worry as Anupama is with her. Anupama asks Pakhi to look around. She asks what she saw. Pakhi says people. Anupama says not just people but it is life. She explains each people are fighting to survive. Anupama shows sweeper, shopkeeper and worker. She adds all are doing hard work to survive and no one is giving up. Anupama advice Pakhi to do hard work instead of simply complaining. She asks Pakhi to do anything but find the purpose of her life. Pakhi understands teary.
Anuj asks Pakhi to understand what Anupama is making her to understand. Anupama asks Pakhi to save her relationship. Anuj asks Pakhi to handle her dream and relationship as only she can do it. Anupama says to Pakhi that her decision will decide her future. Shahs gather around Pakhi. Barkha, Ankush and Adhik joins. Adhik asks Anupama a reason to call him. Pakhi says to Adhik that she knows he wants to part ways but before than if he can give her one last chance. She adds there's no justification for her mistake and she is stupid. Pakhi says she is homeless before of her stupidity. She regrets her action.
Pakhi apologize to Vanraj and Anupama. Vanraj says when a child does a mistake Parents are accused over the upbringing. He adds Pakhi took advantage of his love. Pakhi apologise to Vanraj and Anupama again. Pakhi pleads for last chance. Adhik gives a last chance to Pakhi. Pakhi thanks Adhik. She promises to Anupama that she will try and asks her to support her in new journey. Anupama assures Pakhi. Shahs gets happy. [Episode Ends]
Precap: Anuj says to Anupama that Anu and he will not pay for her over goodness. He demands Anupama to spend more time with Anu.
Also See: