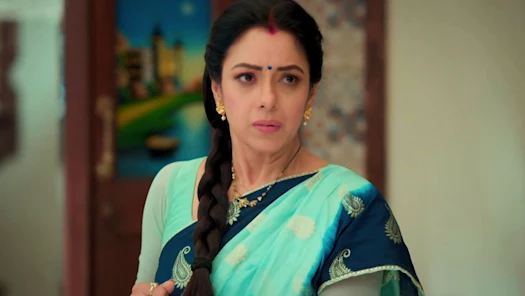 Anupama 21st July 2022 Written Update on TellyExpress.com
In today's episode, Anupama asks Anu if she is enjoying auto ride. Anu tells Anupama that she likes auto ride as in Mumbai she used to take the one. She asks Anupama why Pakhi, Paritosh and Samar don't stay with them. Anupama tells to Anu because they are big now. She says there is benefit of having two houses. Anupama says if ever she doesn't like food made by her than she can go to Kinjal's place. Anu holds Anupama's hand and says she always want to be her. She adds she will also help in doing house chores. Anupama hugs Anu. Anu asks Anupama if they are going to the hospital directly. Anupama nods. Anu says it is good as Kinjal's baby will befriend her before coming out.
Leela instruct Kinjal as she is all set to visit a doctor. She asks Kinjal if Anupama will accompany her. Kinjal tells to Leela that Anupama will reach hospital directly. Samar decides to accompany Kinjal. Kinjal loses her balance. Samar worries for Kinjal. Kinjal asks Samar not to tell anyone else all will get stressed. Kinjal wait for Anupama.
Anupama stops to buy water for Anu. She asks Anu not to leave her hand. Anu runs on road and escapes an accident. Anupama worry for Anu. Kinjal and Samar wait for Anupama. Samar advice Kinjal to visit doctor without Anupama as diagnose is important. Anu apologizes to Anupama for not following her instruction. She asks Anupama not to send her back. Anupama console Anu.
Pakhi and Adhik spend time together. Adhik tells to Pakhi that Barkha has accepted her but with a condition. He says she is ready to talk with Anupama only when they will assure that they like each other. Pakhi gets elated listening to Adhik. Adhik gives gift to Pakhi on Barkha's behalf. Pakhi refuse to take the gift. Adhik convinces Pakhi.
Anupama fears for Anu. Anu asks Anupama to visit Kinjal and baby. Kinjal waits for Anupama. Samar worry why didn't Anupama walk upto them. Kinjal get her check-up done. Samar and Kinjal leave the hospital. Anupama visit hospital and learn Kinjal left already. She gets sad. Leela takes off an evil eye from Kinjal. Kavya and Leela ask about Anupama. Kinjal and Samar sit mum. Vanraj decode Anupama didn't visited Kinjal. He accuses Anupama for not visiting Kinjal. Hasmuk, Kavya takes Anupama's side.
Anupama visit Shah's. She apologizes to Kinjal for not visiting hospital on time. Leela and Samar scolds Anupama. Anu reveal to Shah's about escaping accident on road. Shahs stand shocked. Adhik convinces Pakhi to visit Kapdia house. Anu pleads Shahs not to scold Anupama. Kavya says good nothing serious happened with Anupama and Anu. [Episode Ends]
Precap: Anupama visit her mother with Anu. Barkha gives new clothes to Pakhi and asks her to stay back with her. Anupama spots Barkha and Pakhi together
Also See: