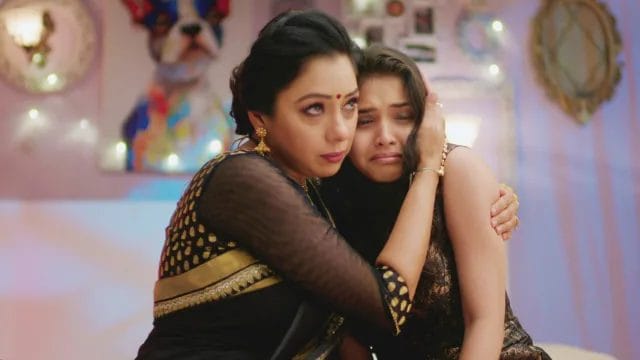 Anupama 21st November 2022 Written Update on TellyExpress.com
In today's episode, Nimrit tell to Anuj, Anupama that his parents where against his wedding but his mother called him back. Anuj says well. Dimple says she is happy at least one family accepted. Anupama asks Dimple to always remember Parents always love them. Dimple says they were excited to meet Nimrit's family but bus tyre got punctured and they got stuck. Anupama asks Dimple not to worry as they will drop them safely. Anuj stops the car at roadside restaurant. Dimple says to Nimrit that Anuj, Anupama are cool. Anupama says to Anuj that Dimple and Nimrit are good.
Anuj, Anupama, Dimple and Nimrit share table at restaurant. Jeep boys interfere. Anuj decide to teach a lesson to the boys. Anupama stops Anuj. Dimple orders the food for herself. Anupama advice to Dimple to order the limited food which she can finish. Dimple realises her mistake. Boys click picture of Dimple without her acknowledgment. Dimple misses her family. Anupama console Dimple. She further decides to call Anu and GK.
Anupama spots boys out there eyeing upon them. Anuj makes a call to Anu. Anupama, Anuj talks with Anu. Samar asks Partiosh it is happy news that Kinjal has advised him to work under him. Paritosh praises Kinjal. He says working under Kinjal will be his pleasure. Samar says Kinjal is like Anupama. Paritosh compares himself to Vanraj. Samar cheers up Paritosh. Paritosh says Kinjal handle so much. He feels proud Kinjal looks after house and pari both. Pakhi orders food. Paritosh and Samar gets irked. Pakhi sees Samar and Paritosh and gets angry too. Samar says Anupama will be stressed learning Pakhi shifted in their neighbour. They decide to hide from Anupama until she returns from the trip.
Boys disturb Anupama, Anuj, Dimple and Nimrit. Anuj asks Anupama to make a call to Hasmuk. Anupama says Hasmuk is unreachable. Anuj asks Anupama to call Samar. Samar and Paritosh decide to hide Pakhi's truth from Anupama. Anupama learns Pakhi shifted near Shah house. She gets irritated.
Boys tease Dimple. Anuj gets angry and decide to teach a lesson to boys as they are misbehaving. Anupama controls Anuj. Dimple excuses herself to the washroom. Anupama accompanies Dimple. Dimple enquires about Pakhi. Samar, Paritosh help Adhik. Pakhi think she shifted near Shahs because she knows Vanraj can't see her in pain. She think Anupama destroyed her dream to enjoy at Kapadia mansion still she will not do any work because she is princess.
Dimple share a talk with Anupama. Anupama, Dimple is chased by a boy. [Episode Ends]
Precap: Dimple gives an earful to the boy out there. Boys out there avenge Dimple by misbehaving with her. Anupama, Anuj tries to save Dimple, Nimrit. Hooligans beat Anuj, Anupama
Also See: