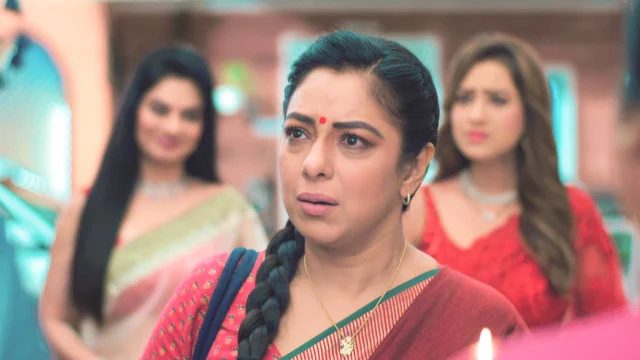 Anupama 22nd June 2022 Written Update on TellyExpress.com
In today's episode, Vanraj asks Anupama to speak up. Anuj reveals that Kinjal and her baby are safe. Paritosh and Vanraj ask Kinjal if she is fine. Kinjal nods. Ankush asks if everything is fine then why Anupama and Kinjal are crying. Anuj tells that Anupama is crying because of her guilt and Kinjal because of her fear. He explains a mother fear for her children. Anuj asks Anupama and Kinjal to stop crying. Hasmuk too asks both of them to stop crying as everything is fine. Anupama apologize. Vanraj yells and asks Anupama to keep her sorry with her. Anuj asks Vanraj not to raise his voice on Anupama as he can't bear.
Vanraj accuses Anupama for overlooking her responsibility post becoming Kapadia. He asks Anupama if she can't take care of Kinjal. Anuj side Anupama and tries to explain to Vanraj that latter isn't at fault. Vanraj keeps accusing Anupama. Hasmuk interrupts and side Anupama. He says Anupama is not at mistake and all should end the conversation as Kinjal is fine. Kavya too asks Vanraj to calm. Vanraj asks Kavya not to interrupt. Anupama decide to take Kinjal with her. Vanraj says Kinjal will not stay with Anupama anymore. Ankush asks Vanraj if there are mines present at the house. Vanraj says his children or grandchildren will not visit Anupama Anuj Kapadia. Kinjal pleads Vanraj to let her stay with Anupama. Vanraj approves Kinjals request. Anuj asks Paritosh to stay back with Kinjal. Vanraj alerts and says Kinjal should return safely to him by morning. Anupama assures Hasmuk that she will not let anyone down. Vanraj says they can't trust Anupama anymore. Anupama stands emotional.
Shah's leave Kapadia house. Samar worry Leela and Vanraj will create more drama post discussing about Kinjal's mishap. Hasmuk says to Samar that more than a drama, Vanraj is scared of losing everything to Anupama. Vanraj angrily drive a car. Anupama and Paritosh console Kinjal. Barkha apologize to Kinjal for bumping her unintentionally. Kinjal and Paritosh excuse Barkha. Barkha asks to press the bell if they need anything. Paritosh says they don't need bell as they have a habit to shout and call Anupama. Anupama asks God to take care of Kinjal.
Barkha suggest Anupama to send Kinjal home for her own safety. Anuj side Anupama. He gets angry and says he can't bear Vanraj doing drama at his place. Anupama stand stressed. Vanraj asks Pakhi if she is ashamed of entering Shah house. Kavya tries to console Vanraj. Vanraj scolds Pakhi for visiting Anupama. Pakhi side Anupama. Barkah manipulates Anuj. Anuj decide to drop Kinjal home to avoid further drama by Vanraj. [Episode Ends]
Precap: Anuj asks Anupama to stop defending Vanraj. He asks Anupama to distance herself from Shahs for some days. Anupama says to Anuj that she can't lose her children because of tiff between elders.
Also See: