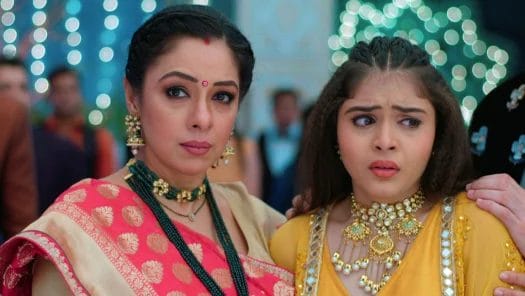 Anupama 22nd November 2022 Written Update on TellyExpress.com
In today's episode, Dimple asks the boy out there why he clicked the picture. Anupama asks to delete the picture. Boy asks Anupama if she is sad because he didn't click her picture. Anupama hide herself. Dimple asks the boy to click the picture of her mother. Boy gets angry. He tries to get physical with Anupama and Dimple. Anupama calls out Anuj for the help. Anuj beat the boy to the blue. Boy decides to avenge upon Anuj. Anuj says alone girls are not an opportunity but their responsibility.
Anuj, Anupama along with Dimple and Nimrit. Dimple and Nimrit asks Anuj to drop them roadside. Anuj, Anupama worry and says they should get down from the car in a safe place else those boys might attack on them again. Anupama gets angry on the Parents for not giving good up bringing to the boys. Anuj says social media is ruining everything. Nimrit thanks Anuj, Anupama for giving them courage.
Dimple feels sorry and says because of them they land in trouble too. Anuj, Anupama asks Dimple and Nimrit not to be sorry. Nimrit and Dimple bid adieu to Anuj, Anupama. Anuj, Anupama asks Dimple and Nimrit to be in touch. Anupama worry if cheap boys will trouble Dimple and Nimrit. Dimple and Nimrit asks Anupama not to worry.
Also, Read in Hindi :-
Anupama give hair clip as gift to Dimple, Nimrit. They click picture together. Anupama tells to Dimple and Nimrit that Anu taught her to click good memories always. Anuj, Anupama bid adieu to Dimple and Nimrit. Anupama gets restless. Anuj asks Anupama if she is fine. Anupama says she is not feeling well. Her health worsens. Anuj worries for Anupama. He asks if she is restless or having motion sickness.
Anupama asks Anuj to drive fast. Boys blocks Dimple and Nimrit's way. They beat Nimrit. Boy out there tries to misbehave with Dimple. Anuj, Anupama comes for Nimrit and Dimple's rescue. Anuj, Anupama fight with the boys. Dimple worries seeing Nimrit unconscious. Anuj struggle to fight with the boys. Anupama helps Anuj in fighting.
Boy hit Anuj, Anupama on their head. Anuj, Anupama falls unconscious. They struggle to hold each other hand. Boy drags Dimple with him. Anupama fail to save Dimple. [Episode Ends]
Precap- No Precap
Also See: