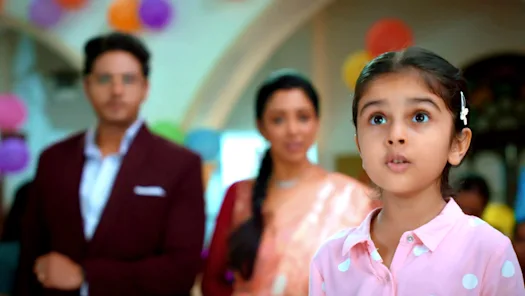 Anupama 23rd June 2022 Written Update on TellyExpress.com
In today's episode, Anuj says to Anupama that he doesn't like if Leela or Vanraj raises their voice on her. He asks her to stay away from Shah family for some days. Anuj says he can control his anger to a point else what he will do next he himself is clueless. Anupama says Kinjal is pregnant and she can't stay away from the family. She adds she will handle Vanraj. Anuj questions if from past 26 years, she was able to handle Vanraj? Barkha and Adhik smirks seeing Anuj and Anupama fight.
Pakhi says to Vanraj that he is accusing her as if she knew that Kinjal will meet with an accident at Anupama's place. Vanraj corrects Pakhi for her misbehaviour. Leela asks the matter and gets shocked learning about the mishap happened with Kinjal. Pakhi says to Vanraj that visiting Anupama's place is not wrong. Vanraj asks Pakhi not argue with him. Pakhi leaves the place. Vanraj says to Hasmuk that his children are ashamed to be with him now. Kavya, Samar, Hasmuk and others stands emotional.
Anupama and Anuj argue with each other. Anuj says that whatever happened was an accident by Vanraj accused her for no reason. Anupama says to Anuj that her children are the reason for her to bear Vanraj. Anuj asks Anupama to stop defending Vanraj. Anupama and Anuj argue with each other. Anuj says to Anupama that he can't see her being guilty for no reason. He adds if ever anything happen to him, he doesn't want her to beg sorry in front of anyone. Anuj asks Anupama to distance herself from Shah's for sometimes. Anupama says she can't stay away from her children. Vanraj says he always thought there is something between him and Anupama but he was wrong.
Barkha benefit the situation and makes Anupama understand that because of Shah's she is ignoring Anuj. She adds like she worries for Shah's, even she has a right to speak up for Anuj. Anuj think Anupama is good and thinks everyone is like her. He worries thinking he can't see Anupama weak in front of anyone.
Anupama recall Barkha's word and cries. Ankush points out that Barkha was adding fuel in the fire. Barkha defends herself. Sara side Ankush and argues with Barkha for instigating the fight. Barkha says Vanraj always create a scene. Sara says because they give him reason. Barkha asks Sara not to worry as fights bring couple closer. Sara asks than why Ankush and she is always at loggerheads and no sign of love. She leaves the place.
Anuj and Anupama apologize to each other. Kavya console Pakhi and decide to talk with each other later. Anuj and Anupama patch up. Both hug each other. [Episode Ends]
Precap: Barkha asks Anupama not to worry as couple keeps fighting. Anupama says she don't allow people to benefit her situation. She stuns Barkha by telling GK checked the account and something is not right with the amount she invested for interior designing.
Also See: