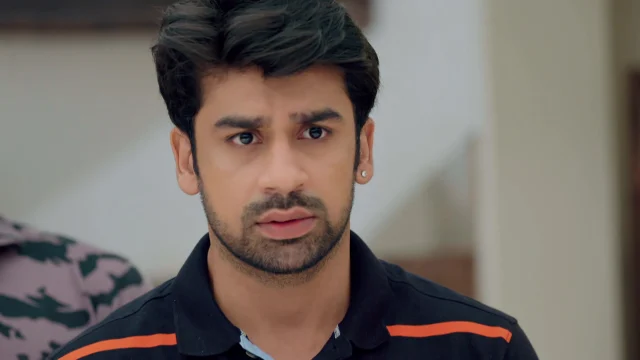 Anupama 23rd September 2022 Written Update on TellyExpress.com
In today's episode, Bakha says to Kinjal that Paritosh will keep betraying her. She quote Paritosh is Vanraj's blood. Barkha asks Kinjal to give divorce to Paritosh and move on in her life like Anupama. Kinjal says to Barkha that she doesn't want to talk about Paritosh anymore. Barkha says to Kinjal if ever she needs her to talk she can approach her.
Anuj on video call asks Anupama what she is doing. Anupama tells to Anuj she is waiting for Anu outside her art class. Kinjal comes crying and says to Anuj that Arya's throat has been chocked. She sees Anupama on video call and asks her to come back home. Anupama give advice to Kinjal to pat Arya's back. Kinjal asks Anupama to come back.
Leela scolds Samar for leaving Paritosh at his friend's house. She asks Samar to take her to Paritosh. Leela gets furious on Kinjal too for leaving the house. Vanraj asks Leela to let Kinjal calm and then they will talk further. Leela asks Vanraj to bring Paritosh back before it gets late. She says Paritosh did the mistake but he can be excused. Leela urges Vanraj to bring Paritosh.
Kinjal cries and asks Anuj to call Anupama as Arya is crying continuously. Anuj decide to call Anupama. He falls down. Anupama come back at get shocked seeing Anuj lying on the floor. She gets stressed seeing Arya. Anu asks Anupama what has happened to Anuj. Anupama stands crying.
Paritosh makes a call to Vanraj. He question Vanraj why he was excused and none is forgiving him for the same mistake. Paritosh asks Vanraj why it is so easy for Parents to throw their children out from the house. Vanraj sit mum. Paritosh says to Vanraj that Anupama and he destroyed his life and now he will do something big. Vanraj is stressed. Paritosh tries to attempt a suicide.
Anupama cries and think she failed as a mother, mother-in law and wife. She feels guilty. Anuj and Kinjal ask Anupama not to feel guilty. Anupama cries and gets uncontrolled. Anuj console Anupama. Vanraj call Anupama to enquire about Paritosh. He hides the actual truth and asks Anupama not to stress.
Vanraj dream Samar gave him the news of Paritosh's suicide. Back to reality; Samar asks Vanraj not to worry as Paritosh is fine. Vanraj worries for Paritosh. Leela over hears Vanraj and Samar's talk. Anuj and Kinjal put Anupama to the sleep. Kinjal decide to leave the house. Anuj convinces her to stay back. Anupama worries in sleep about her responsibilities. Anuj tells to Anupama about Sunday. Leela prepares to bid adieu to ancestors and explains to Kavya about pritpaksh. [Episode Ends]
Precap: Leela asks Kinjal to come back home before Anupama instigate her to give divorce to Paritosh. Anupama says to Leela let Kinjal and Paritosh take their life decision.
Also See: