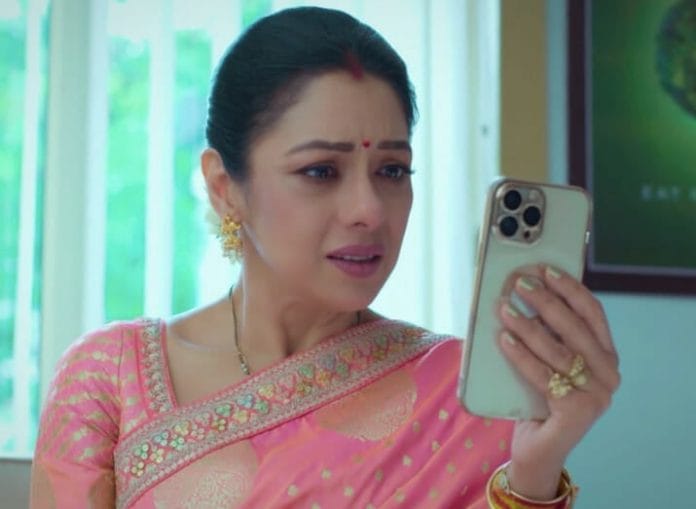 Anupama 24th September 2022 Written Update on TellyExpress.com
In today's episode, GK decide to send food to orphanage and old age home. Anupama says she wants to do more. Anuj asks what. Anupama says on such events they feed cows or dogs but it will be good if whole year they feed them. She talks about normalizing feeding to birds and animals. Anuj appreciate Anupama's thought. He says when he was in orphanage they used to feed to cows. Anupama feels glad. GK says his father used to tell him that feeding the one who can't speak is one of the good deeds. Anupama says to Anuj he is trying his best to convince her but she is still not out from last day. Anuj says she is not any Goddess for whom doing everything nicely is mandatory. He says she too can take a break. Anuj says to Anupama that in sleep she looks horrible. Anupama asks Anuj not to say anything. Anuj shows her the proof and laugh. Arya cries. Anuj asks whose baby is crying.
Anupama stands stunned. She diverts the talk and tells to Anuj that Anu might be watching TV. Anuj gets convinces. Anupama goes to check upon Arya. She gets happy seeing Anu and Arya playing. Kinjal apologize to Anupama. Anupama apologize to Kinjal too. She asks Kinjal what she is writing. Kinjal says she is writing her thoughts on paper as she is clueless what to do next. Anupama says to Kinjal that their situation is similar but when Vanraj's truth was out she crossed half her age. She adds Kinjal is smart and young and can deal with the situation in a better way. Anupama encourages Kinjal.
Leela comes to Anupama's place and calls her out. Barkha asks Leela not to shout. Leela complaint to Anupama and says Barkha is not allowing her to see Arya. Kinjal comes with Arya. Leela sees Arya and gets emotional. She urges Kinjal to come back home. Anupama asks Leela not to force Kinjal and let her decide on her own. Kavya tells to Vanraj that Leela went to Kapadia house. Vanraj worries. Kavya console Vanraj.
Leela tries to manipulate Kinjal to come back home as she won't be able to raise Arya alone. Anupama asks Leela not to instigate Kinjal. Adhik spend time with Pakhi. Pakhi says to Adhik that he might think her family is dysfunctional. Adhik says no family is perfect but Vanraj and Anupama goes overboard sometimes.
Anupama asks Leela not to scare Kinjal. Leela says Anupama will break Kinjal's house. Anuj asks Samar to take back Leela with all due respect. Anupama add only Kinjal has a right to make a decision. Kinjal accuses herself for troubling everyone. Samar says to Kinjal that he will always give his support to her. Anuj boosts Kinjal's morale. [Episode Ends]
Precap: Paritosh threatens to end his life and scare Kinjal. Anupama asks Paritosh to go ahead.
Also See: