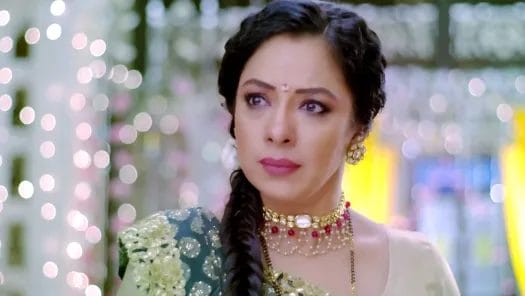 Anupama 24th November 2022 Written Update on TellyExpress.com
In today's episode, Dimple asks inspector to catch the culprit. Inspector assures Dimple. He says he will not spare the criminals. Anuj gets impressed with the inspector. Inspector says not all victims support them in solving the case but Dimple is brave. Samar shows Shahs the news about Anuj, Anupama helping Dimple and Nirmit. Kavya, Vanraj and Hasmuk gets disgusted. Leela worries for Anuj, Anupama. Paritosh makes Leela understand that Dimple and Nirmit are strangers and what if someone known has went through the same. Hasmuk says life in unpredictable. Samar prays for Dimpi's braveness and Anupama, Anuj's courage
Inspector tells to Dimpi that her case can run for long. Dimpi asks Nirmit if he has informed to his parents or not. Nirmit feels ashamed. He says how he can tell his parents what all happened with Dimpi. Anuj asks Nirmit to support Dimpi. Nirmit sit confused. Vanraj, Leela discuss about sexual assault. Samar says the incident will haunt Dimple whole life. A courier delivery delivers AC at Shah house. Kavya says Pakhi ordered the AC. Pakhi apologize to Shahs for not changing the delivery address. Leela asks Pakhi if she can't stay without AC for one day. She says Adhik can't afford. Pakhi says it is her problem.
Leela says if same continues Adhik will leave Pakhi one day. Vanraj corrects Leela. Samar informs Shahs that Anuj, Anupama is returning. Leela says good Anuj, Anupama returning leaving Dimple and Nirmit. Adhik confront Pakhi about ordering expensive AC. Pakhi tries to calm Adhik.
Anuj, Anupama bring Nirmit and Dimple home. They get shocked seeing Barkha and Ankush. Barkha says to Anupama that she is looking for a house and will shift soon. She welcomes Dimple and Nirmit. Ankush assures Anuj, Anupama too. Samar informs Shahs that Anuj, Anupama brought Dimple and Nirmit to their place. Vanraj and Leela against Anupama and Anuj's decision. Samar, Kavya and Kinjal side Anupama, Anuj.
Anupama, Anuj confront Nirmit. Nirmit is confused over supporting Dimple. Anupama, Anuj feel Nirmit's confusion doesn't last long else Dimple will break down. Ankush asks Anuj, Anupama the reason behind bringing Dimple and Nirmit. Anupama says on humanitarian ground they brought Dimple and Nirmit.
Vanraj says people will laugh on them for bringing Dimple home. Leela says Anuj, Anupama should keep Dimple away from their house. Samar checks the news. Anupama informs Anuj that Pakhi Is Shahs neighbour. She further decides to stand with Dimple no matter what. [Episode Ends]
Precap: Leela advice Anupama to back off before everything gets messed up. Hooligans attack on Anupama.
Also See: