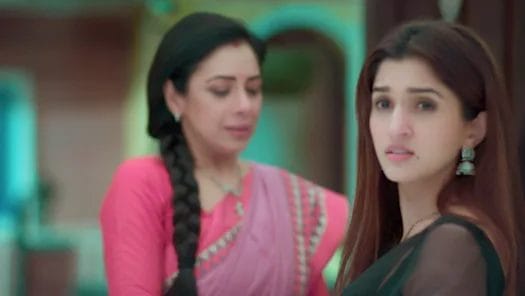 Anupama 26th October 2022 Written Update on TellyExpress.com
In today's episode, teacher asks students to introduce themselves. Shikha introduces herself. Anupama claps for Shikha for quitting her job and willing to start her own business. She says Shikha made a bold move. Chetan introduces and says he wants to upgrade himself so that he can match multi-national companies meet. Anuapama compliment Chetan too.
Barkha meet Shahs. Kavya, Leela and others get shocked learning that Barkha along with Adik wanted to control Anupama through Pakhi. Leela asks Barkha why she is exposing Adhik now. Vanraj asks the same question to Barkha. Barkha says she too has a daughter and later realized that she was about to do wrong with Pakhi. Leela asks why she didn't tell anything to Anupama atleast. Barkha discloses that Anupama already knows the truth. Leela, Vanraj and others gets shocked learning that Anupama knows Adhik's truth.
Parmila introduces herself to the class. Teacher asks Anupama to tell about herself. Anupama gets emotional while speaking in front of the class. Anuj wait for Anupama. Vanraj gets surprised thinking Anupama hide the truth from them. Leela gets angry on Anupama for hiding the truth. Barkha says that Adhik is not a perfect match for Pakhi. She asks Shahs to think before fixing Adhik and Pakhi's alliance. Kavya says to Barkha that they need to confront Anuj and Anupama before concluding anything.
Teacher asks Anupama to calm and introduce herself later. Anu asks Anuj if he is nervous. Anuj lie to Anu. Barkha exposes Adhik's lifestyle. She says she wants to save Pakhi. Samar interrupts and says to Barkha that she isn't safeguarding Pakhi rather she is trying to play safe by exposing Adhik. Barkha agree with Samar and says she don't want to get blamed later.
Pakhi over hears Barkha's talk. She vents out at Barkha for speaking against Adhik. Pakhi says Adhik told her about his lifestyle long back. Vanraj decide to first confront Anupama about lying to them.
Anupama recalls her past and tell to everyone why she wants to complete her study. She praises Anuj for having her back. Everyone in the class gets stunned learning about Anuj Kapadia. Anuj wait for Anupama.
Barkha leave the place. Vanraj wonder why Anupama and Anuj hide the truth. Kavya and Hasmuk side Anuj and Anupama. They say maybe Anupama and Anuj didn't want to ruin the festival. Vanraj is stunned.
Pakhi inform Adhik about Barkha exposing him. She asks Adhik to meet her else she will end up harming himself. Adhik gets angry on Barkha for exposing his past.
Anupama says women need to fetch a time for herself amid the responsibilities. Everyone clap for Anupama. Vanraj calls Anupama. [Episode Ends]
Precap: Vanraj says to Anupama that he wants to talk about Pakhi urgently. Anupama asks Vanraj to handle the matter on his own. Anuj secretly romance with Anupama at the college.
Also See: