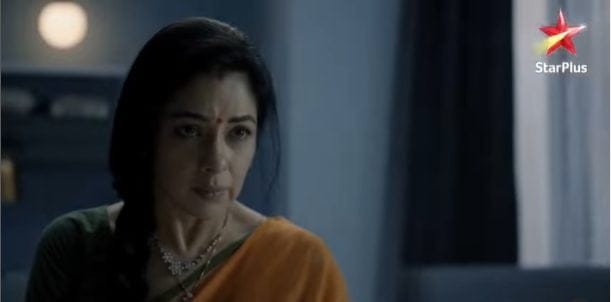 Anupama 27th August 2022 Written Update on TellyExpress.com
In today's episode, Ankush and Barkha go on their knee to apologize to Anupama. Anupama stand restless. Anuj takes away their sight. Anupama asks Ankush and Barkha not to be sorry but they should keep the environment for Anuj's sake. Ankush and Barkha apologize to Anupama again and ask if they can stay back? Anupama says Anuj will take the decision. Anuj says Anukush and Barkha have to do one more work.
Adhik proposes Pakhi for the marriage. Pakhi agress. Adhik and Pakhi spend quality time together. Leela looks for a girl for Samar. Hasmuk asks Leela why she is so much in hurry to find a bride for Samar. Leela says because it is the first time she is getting an opportunity to bring the daughter-in law of her choice. She praises Anupama's goodness. Kinjal says Leela wants a girl like Anupama. Hasmuk says no one can be like Anupama. Leela agrees and says when Pakhi herself doesn't resemble Anupama, what they can expect more. Pakhi says to Leela that she is hearing. Paritosh says to Pakhi that Leela is saying to make you hear only. Hasmuk says they got best daughter-in laws and counts Kavya and Kinjal along with Anupama.
Leela gets stunned seeing Barkha and Ankush. Anupama asks Anuj why he sends Ankush and Barkha to Shahs. Anuj says it is important to make Ankush and Barkha realize their mistake else they will backstab again. Anupama asks Anuj not to take any stress. Leela gives an earful to Barkha and Ankush. Vanraj asks Barkha and Ankush the reason for their visit. Ankush and Barkha tell that they are here to apologize to Vanraj.
Vanraj refuse to excuse Barkha and Ankush. Pakhi think if Vanraj will forgive Ankush and Barkha than Anuj will not send Adhik, Barkha and Ankush to USA. Vanraj asks Ankush and Barkha to leave their place. Ankush says they were clueless that Shahs treat the person rudely who come to seek an apology. Vanraj highlights Barkha and Ankush aren't sorry by heart. He asks both of them to leave. Ankush asks Vanraj not to throw an attitude what if one day he will need them. Vanraj says such day will never come. Pakhi stand stressed.
Barkha and Ankush feel insulted. Ankush regret listening to Barkha. Anu, Barkha and Anupama plays badminton. Anuj fails to hold the racket. Anupama boosts Anuj's morale. Anuj manages to hold the racket. Anupama and Anuj play with Anu happily. Ankush and Barkha returns. They stand irked seeing Anupama, Anu and Anuj together.
Precap: Shahs and Kapadias meet for Ganpati celebration at Anupama's house. Kinjal suffers a labour pain. Anupama, Vanraj and Samar rushes Kinjal to the hospital.
Also See: