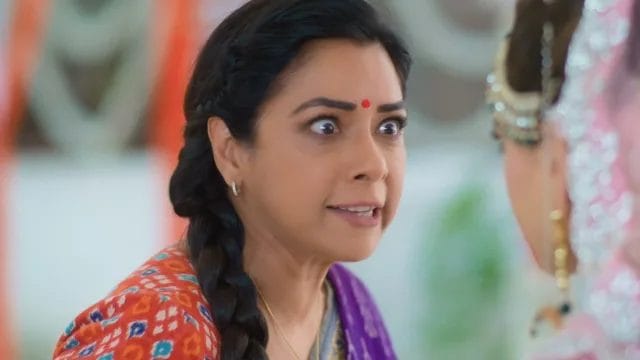 Anupama 29th October 2022 Written Update on TellyExpress.com
In today's episode, Leela asks Kavya to start the puja. Kavya talks about Pakhi. Hasmuk asks to continue without Pakhi. Anupama and Kavya perform Diwali puja at their places. Anupama and Vanraj get restless while doing puja. Shahs light firecrackers. Vanraj says every year Pakhi is most excited to light lamp and burst firecrackers. Anupama along with Anuj, Ankush and Anu visit Shahs. Anu gift greeting card to Shahs. Anupama assures Vanraj that Adhik didn't accompany them. She looks for Pakhi. Leela and Vanraj tell to Anupama that Pakhi didn't come out from her room from long. Vanraj asks Anupama to meet Pakhi.
Anupama asks Pakhi to come out from the room. She asks Pakhi to keep faith in Vanraj. Anupama asks Pakhi to open the door and bangs it. She worries when Pakhi didn't responded. Anupama asks Samar to break the door as Pakhi isn't responding. Anuj asks Anupama not to worry. Anupama and others get shocked seeing Pakhi and Adhik as man and wife.
Pakhi and Adhik walk hand in hand. Anu congratulates Adhik and Pakhi on their marriage. Adhik and Pakhi explain about marrying each other. Pakhi says Vanraj wanted to send her to other city thus she gave Adhik an idea to marry in the temple. Adhik says Pakhi was panicking thus he ended up marrying her. Pakhi says to Shahs that they can scold her or can beat. Hasmuk asks Pakhi not to utter word. Vanraj breaks down. Kavya and Anuj comfort Vanraj. Leela asks Pakhi and Adhik why they didn't carry poison along.
Anupama asks Pakhi she asked her one day but she disappointed. She scolds Pakhi and asks why she didn't bother about Vanraj and Hasmuk. Anupama asks Pakhi if she think only Adhik love her in the world. She adds what she learns from Paritosh and Kinjal's marriage. Anupama asks Pakhi if she know what is marriage. Pakhi says marriage is union of two souls. She adds marriage is happiness and love. Anupama corrects marriage is union of two families too. She asks Pakhi why she didn't wait. Pakhi says because she was sure they were buying time and will not get her marry Adhik. She gets angry on Pakhi for disrespecting everyone. [Episode Ends]
Precap: Pakhi apologize to Vanraj. Vanraj sit mum. Anuj says how Vanraj will react no one can predict. Vanraj throws Pakhi's stuffs. He asks Pakhi to leave with Adhik. Adhik and Pakhi stand stunned. Anupama stands teary
Also See: