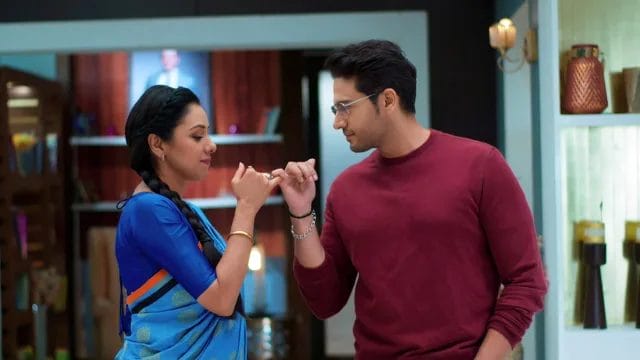 Anupama 2nd November 2022 Written Update on TellyExpress.com
In today's episode, Anupama along with Anuj, Adhik and Barkah reach Kapadia mansion. Barkha stands angry at the door. She breaks the stuff. Pakhi hides behind Anupama. Barkha yells at Adhik. Anuj send Anu to her room. Adhik and Pakhi ask how they dare visit Kapadia house. Anuj asks Barkha not to create scene outside. Barkha vents out at Adhik for secretly marrying Pakhi. Ankush tries to calm Barkha. Barkha says that Adhik and Pakhi's marriage will not work for long. Pakhi cries. Barkha says to Pakhi that her life will be miserable at Kapadia house. Anupama alerts Barkha. Barkha says none can stop her from quoting the fact. She adds raised Adhik and knows her well. Barkha claim that Adhik do not love Pakhi and has married her with a hidden agenda. Adhik shouts at Barkha.
Barkha says to Pakhi that she has raised Adhik and if he can betray his sister than he can betray her too. She shouts at Pakhi and Adhik. Barkha asks Pakhi and Adhik to leave the place. Anuj and Anupama disclose that they have taken the responsibility of Pakhi and Adhik. Anupama says they are equally upset with Adhik and Pakhi but they can't leave them on road. Barkha leaves the place. Anuj welcome Adhik and Pakhi to the house. Anupama is perplexed about welcoming Adhik and Pakhi. Adhik and Pakhi take the blessing from Ankush, Anuj and Anupama. Barkha refuse to give blessing to Adhik and Pakhi. She alert Pakhi and says Adhik will break her trust. Barkha again says their marriage will not work more than 6 months. Anuj asks Adhik to take Pakhi to his room. He adds Barkha challenged them and now they have to prove her wrong. Anuj asks Adhik and Pakhi to win the family trust.
Anupama pray to God for Pakhi and Adhik's happy married life. She blesses both of them. Barkha cries in her room. She regrets loving Adhik more than Sara. Barkha feels betrayed. Anupama advice Pakhi and Adhik to not let down Anuj as he took their responsibility. She lectures Pakhi and Adhik on marriage.
Anupama tells to Pakhi and Adhik that in marriage one has to face problems. She asks them to cross the hurdles with honesty. Pakhi and Adhik assure Anupama that they will not let them down. Anupama says Anuj took the responsibility of Adhik and Pakhi. She adds now Anuj will take care of Pakhi and Adhik. Anupama cries thinking about Adhik and Pakhi. [Episode Ends]
Precap; Anupama worries if Pakhi's wedding will fail. Barkha tells to Ankush that Adhik will use and throw Pakhi.
Also See: