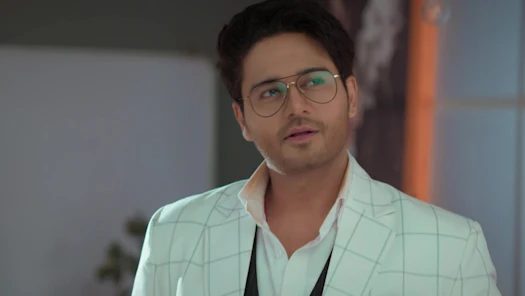 Anupama 3rd August 2022 Written Update on TellyExpress.com
In today's episode, Kavya tried to help Anupama. Anupama stops her. She recalls her moments at Shah house. Kavya hugs Anupama. Anupama gives hug back to Kavya. Kavya says to Anupama that if ever she needs a friend, she will be there for her. Anupama feels glad. Kinjal gets emotional. Rakhi think Anupama's own children disowned her and Kavya is giving her support. Anupama bumps into Hasmuk. Hasmuk give sweet to Anupama. He handovers Anupama's hand to Anuj. Hasmuk blesses Anupama and asks her to go. Anuj takes away Anupama. They reach home.
Anupama decide to be in the car for some time. Anuj takes Anu. Anu asks Anupama to have water. Anupama recall her moments at Shah house. She breaks down. Barkha gets stressed post learning from Ankush that Anuj is going to make an announcement. She asks Ankush why he didn't inform her earlier. Ankush says he wanted to tell her but got stuck. Barkha gets stressed. Anuj come and inform that he has to make an important announcement. Barkha stand stunned. Anuj asks Sara to get him a coffee.
Rakhi asks Shahs why none is speaking anything. She asks if anyone can get her a coffee. Kinjal asks Rakhi to stop. Rakhi asks Kinjal to take care and she will return with her bags soon. Hasmuk regret he failed to stop Anupama . He demands God to call him soon. Kavya and Kinjal worry for Hasmuk. Kavya says to Hasmuk everything will be fine. Hasmuk says nothing will be fine as house disrespected Anupama. He says a mother was insulted at the house thus nothing will be fine at the house.
Also, Read in Hindi :-
Anupama regains consciousness. She returns to home. Hasmuk says God resides in a mother's heart and when she is hurt things can't be restored. Hasmuk adds whosoever has hurt Anupama will pay for it. He curses Pakhi, Paritosh and Vanraj and says for hurting Anupama they will taste their own medicine. Anu tries to cheer up Anupama.
Vanraj tries to check Hamsuk's BP. Hasmuk asks Vanraj to not come close to him. Vanraj asks Hasmuk not to stress as his health will get worsen. Hasmuk asks Vanraj not worry about him. Anupama boosts herself and decide to live in the moment with Anuj and Anu.
Hasmuk complaints to Vanraj for not taking stand for Anupama against Pakhi. He says if anyone louds his/her voice against Leela than he gets angry. Hasmuk asks Vanraj why he was silent when Pakhi was insulting Anupama. Kavya side Hasmuk. Vanraj sit mum. [Episode Ends].
Precap: Pakhi regrets her action and shares with Vanraj. She decides to apologize to Anupama. Vanraj stops Pakhi from going back to Anupama. Anupama assures Anuj that she will never go back to Shah house.
Also See: