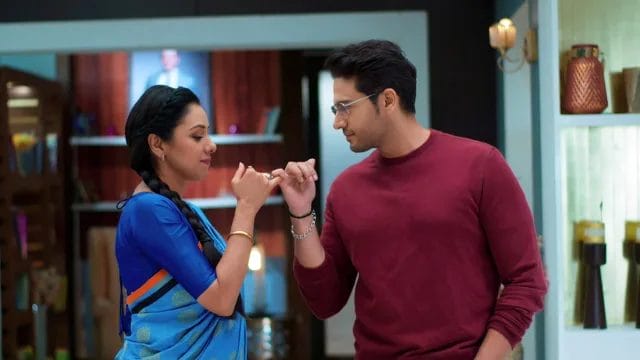 Anupama 3rd November 2022 Written Update on TellyExpress.com
In today's episode, Pakhi cries and expect Anupama side her. Anuj lashes out at Pakhi for always expecting from a mother to support the wrong doing. He says even mother feels a pain. Ankush adds if Pakhi's love is right than others anger is equally right. He asks Adhik to take Pakhi to his room. Ankush asks Anuj if he is fine. Anuj says he isn't. He says he feel he is tired physically, mentally and emotionally. Ankush says to Anuj that he can't get tired right now. Anuj says that Anupama took the responsibility but he feel they will fail. Ankush asks Anuj to handle Anupama as she is bearing a lot. Anuj asks Ankush to check upon Barkha too.
Adhik welcome Pakhi to his room. Pakhi and Adhik shares a quality time. Pakhi asks Adhik if they are married. Adhik says yes. Both congratulate each other and smile. Anuj looks for Anupama. He finds Anupama and lay down beside her. He tries to console Anupama. Anupama cry her heart out. Anuj asks Anupama not to cry.
Samar gives his support to Vanraj. Leela asks Hasmuk to take a rest. She adds no one will be able to sleep but they need to rest. Samar assures Vanraj that he will never do runaway marriage. Vanraj says he won't be able to bear if he does run away marriage. He further asks Samar to do whatever his heart says. Vanraj asks Samar to leave him alone.
Also, Read in Hindi:-
Pakhi worries about the family. Adhik asks Pakhi not to worry as everything will be at right place soon. He says all are against but Anuj and Ankush is on their side. Adhik decide to feed Pakhi. Pakhi recall Barkha's word and says what a life. Anupama share with Anuj about Pakhi. She worries if Pakhi will fail to take the responsibility. Anupama says post marriage life is not only bed of roses. She says if Adhik and Pakhi will fail to face the reality. Anuj console Anupama. He says they will guide Pakhi and Adhik. Anupama worry if Adhik's love will weaken Pakhi
Ankush asks Barkha to relax. Barkha says to Ankush that no one knows Adhik more than her. She claim once honeymoon period will over, Adhik will throw Pakhi. Anupama worry thinking Pakhi will not be able to handle heart break. Pakhi eats pancakes. Anupama asks Anuj if they can trust Adhik. Anuj says no one can take anyone's guarantee as individual reacts as per situation. Adhik praises Pakhi's beauty.
Barkha tells to Ankush that soon because of Adhik they will be on road. Anuj suggest Anupama to get Pakhi and Adhik marry properly. Anupama is confused. [Episode Ends]
Precap: Barkha confront Adhik if he is using Pakhi for his own benefit. Adhik confessed the truth. Pakhi and Anupama cries together.
Also See: