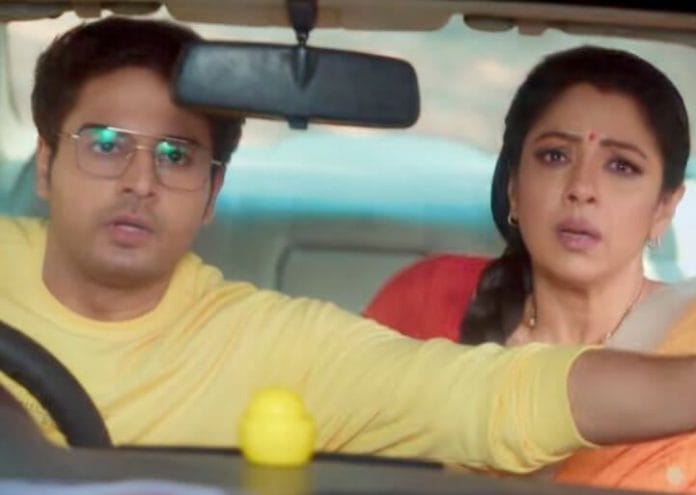 Anupama 4th January 2023 Written Update on TellyExpress.com
In today's episode, Anuj says he wasn't willing to come back home. Leela asks Anuj if he mean she is the reason. Anuj says to Leela that she already said that. He vents for not being happy despite having lavish life. Anuj says all are ready to welcome New Year but they are fighting unnecessary. He says Kapadias don't discuss their family matter but keeps talking about Shahs. Anuj says he has done so much for Shahs but they never valued him. Anupama asks Anuj to calm.
Kavya speaks up and says to Anuj that he is right. She side Anuj and says Shahs never valued her than how one can expect they are going to give respect him. Vanraj asks Kavya to say once they return home. Kavya asks Vanraj if he waited to go return back home. She add Leela never value her. Kavya says Leela only knows to complaint. She says she love Shahs but the family never accepted her. Kavya vents out at Leela. She says Leela only care for Vanraj, Paritosh and Pakhi. Kavya says Kinjal is adjusting so much still Leela don't give her deserved respect. Leela asks Kavya what favour she has done to Shahs. Kavya says Anuj did the favour still she is accusing him.
Kavya calls Shahs selfish. She says Leela, Vanraj, Paritosh and Pakhi formed a group to trouble others. Kavya says Anuj is right even if Anupama will give her life, Leela will have a problem. Vanraj asks Kavya to stop. Kavya vent out and says Shahs never include daughter-in laws in the family. Kinjal side Kavya. She says Leela, Vanraj, Paritosh and Pakhi are mean. Paritosh says none asked Anuj to do any favour. Anupama asks Paritosh to speak less. Anuj asks Shahs instead of fighting they should focus on Hasmuk.
Hasmuk returns back. Vanraj asks Hasmuk if he is fine. Leela asks Hasmuk if he is fine or not. Hasmuk says he got stuck in the traffic. Anuj asks Hasmuk to return back home. Hasmuk refuse to enter the house. He regrets returning back home. Leela says she will pray to God as Hasmuk returned. Hasmuk says he heard the fight and is shameful because of Shahs. Anuj regret leaving Hasmuk on the road.
Hasmuk says Anuj went through much because of him. Leela says she didn't do anything. Hasmuk asks Leela to stop lying. He gets angry on Leela. Hasmuk asks Anupama to change as it is high time. [Episode Ends]
Precap: Anuj, Anupama discuss about starting afresh. Kavya makes a shocking decision. Kinjal and Paritosh get separated. Ankush gets drunk
Also See: