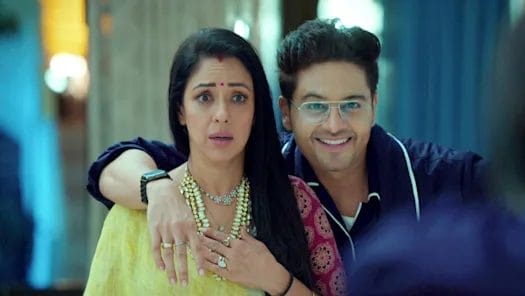 Anupama 4th July 2022 Written Update on TellyExpress.com
The episode starts with everyone having dance competition and are dancing happily together. Pakhi and Adhik took use of the situation and sneaked into a room. Adhik says Pakhi that he has something to say ro her and Pakhi gets excited to hear it. Anupama finds them missing and comes in search of them. She finds Pakhi in their room through the narrow opening of the door and goes in to find Adhik holding Pakhi with her shoulders.
Before Anupama could say anything she heard Vanraj shout from behind. Vanraj also spotted them together and angrily holds Adhik by collar for trying to get closer with Pakhi. Both Pakhi and Adhik tries explaining but Vanraj is not ready to listen. Je angrily drags him in front of everyone despite Anupama and Pakhi's protest. Everyone gets shocked when Vanraj slaps Adhik.
Adhik's family got furious at Vanraj for raising hand on the it son and Anuj asks explanation from Vanraj. Vanraj asks him to ask Adhik about what he did with Pakhi. They all fight with each other when Vanraj says that he tried getting close with Pakhi in private shocking everyone. Toshu also says about spotting them together but Samar pleads him to not elevate it further. Anuj still asks Anupama to say what happened and Anupama narrated whatever happened. Vanraj is about to raise hand on Adhik again but everyone stops him.
Baa accuses Adhik joining Vanraj and scolds Anuj's family. Anuj's family also gets disgusted at Vanraj language and asks him to behave. Vanraj says he knows well to behave with those who tries to get close with his daughter. Rakhi is furious that her daughter's baby shower ceremony is ruined but Anupama pleads her to not create more issues. Rakhi goes quite.
Anuj says he himself would punish Adhik if he's wrong and asks him to be calm so that he could listen to the other side of the story from the involved people. Vanraj is not convinced that and continued getting hyper. Adhik asks what wrong did he do that he's behaving this way with him. He says that he's friends with Pakhi and so was speaking with her. Baa asks what type of friendship talks takes place in private and not in front of everyone.
Adhik says that they didn't do anything wrong but Vanraj doesn't listen. Pakhi shouts that she went with him with her consent and says they were just friends. Everyone gets shocked hearing it and Vanraj asks Pakhi to keep shut as she doesn't know anything. Pakhi says she's grown enough to understand everything and says they are friends just like him and Kavya shocking Vanraj.
Precap : Anupama will say Pakhi that she told whatever she need to and asks her to stop. Vanraj will say Adhik to never come near Pakhi again but Adhik will ask why he shouldn't when Pakhi herself wants to meet him.
Also, Read :-
Also See: