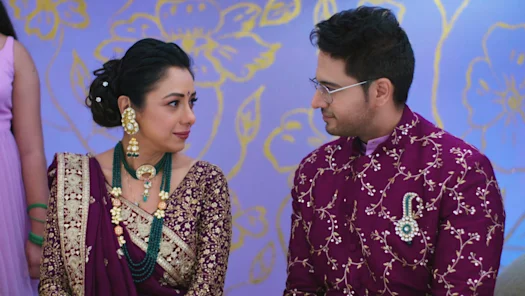 Anupama 4th June 2022 Written Update on TellyExpress.com
In today's episode, Anuj gets happy seeing Barkha. Anupama gets happy too. Anuj introduces Anupama to Barkha. Barkha says to Anuj that how he found her surprise. Anuj says he is elated. Anupama bows down and touch Barkha's feet. Anuj asks Barkha to give blessing to Anupama. Barkha share how in USA everyone doesn't follow culture. Anupama says everyone should carry their culture everywhere. Leela stops Kinjal from going to the concert. Pakhi, Paritosh and Samar insist leela to let them take Kinjal too with them. Kinjal pleads Leela too. Leela gets adamant.
Arun surprises Anuj and Anupama. Arun says they should celebrate as they are meeting after so long. Barkha captures the moment. She gives evil smile. Kinjal understands Leela and refuse to go to the concert because of the crowd. Partiosh decide to stay back too. Vanraj and Leela ask Paritosh, Samar and Pakhi to go, and they will take care of Kinjal. Paritosh, Samar and Pakhi gets excited.
Arun asks Anuj where is his six pack abs. Anuj tells to Barkha and Arun that Anupama cooks well. Arun praises Anupama's beauty. Anupama gets emotional. Barkha and Arun ask what happened. Anuj tells Anupama gets emotional. They both see the empty photo frame. Anupama add she was wife already but now she turned daughter-in law too. She gets happy to find a family. Samar, Pakhi and Paritosh enjoy. Paritosh meet Kinjal. Samar and Pakhi dance. Paritosh goes to bring drink for Samar and Pakhi.
Arun asks Anuj and Anupama to have a drink. Arun praises Anuj for being a good husband. Barkha asks Arun to learn too. Both give an awkward look to each other. Samar friend call him. Pakhi asks Samar to go. Samar says he can't leave her alone. Pakhi says to Samar that she is not a kid. She asks Samar to go as Paritosh is around.
A boy out there tries to get close to Pakhi. Another boy captures Pakhi. He sees she is getting uncomfortable and defends her. Pakhi thanks the boy. She gets shocked seeing the boy. Samar criticizes his friend painting. He says who paints such a bad painting and as a true friend gives advice to him. A girl out there impresses Samar with her idea behind the messed painting. She says a girl in the painting is seeing a dream. Samar gets smitten seeing her.
Elsewhere, Anupama and Anuj sweeps that floor. Arun apologizes to both of them. Anupama decide to cook for them. Barkha says she has already cooked the food. She further asks Arun to learn something from couple. Arun says Anuj and Anupama love each other. [Episode Ends]
Precap: Barkha learns that Anupama owns the house. Paritosh beat the boy out there for troubling Pakhi. Pakhi defends the boy. Both shares an eye-lock
Also See: