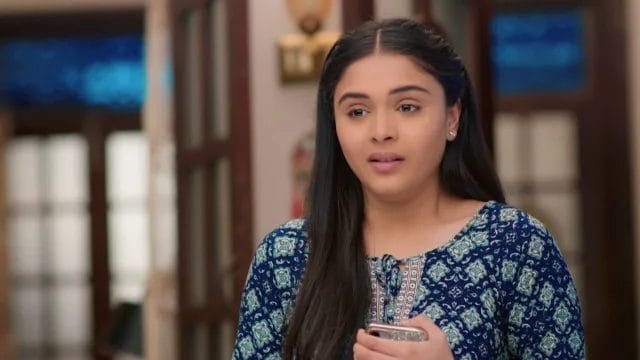 Anupama 4th November 2022 Written Update on TellyExpress.com
In today's episode, Anupama checks upon Anu. She put Anu to the sleep. Anu looks for Anupama. Pakhi sees Anupama. She recalls Adhik's word. Adhik wants Pakhi to sleep separately until their family accepts them. Pakhi praises Adhik. She reveals to Adhik that she respects him a lot. Adhik demand Pakhi to talk with Anupama. Pakhi decide to talk with Anupama. She tells to Adhik that until everything falls on its place she will sleep with Anu.
Anupama sees Pakhi. Pakhi tells to Anupama about Adhik's demand. She further asks Anupama to put her to the sleep too. Pakhi shares her fear with Anupama and cries. She pours her heart out and confesses that she is feeling lonely despite being with her. Pakhi asks Anupama to hug her. Anupama hugs Pakhi. Pakhi and Anupama get teary. Anuj spots Anupama with Anu and Pakhi. He takes an evil eye away from Anupama.
Next, day Vanraj looks for Pakhi. Shahs sit stunned. Vanraj recall Pakhi's marriage. He recall about throwing Pakhi out from the house. Vanraj gets angry and demand Shahs to stop the party song. Samar tells to Vanraj that that someone else is playing the song. Hasmuk tells to Leela that Vanraj will take a time to adapt the change. Samar, Vanraj wishes each other a happy new year. Paritosh returns home. Vanraj asks Paritosh how he came back soon. Paritosh tells he failed to control himself post learning about Pakhi. He says he can't believe Pakhi repeated the same mistake like him.
Pakhi and Adhik wishes Anupama, Anuj, Barkha and Ankush a happy new year. Adhik asks Anuj to check if there is any suitable job for him in his company. He says he wants to take Pakhi's responsibility. Anuj decide to help Adhik. Adhik and Pakhi thanks Anuj. Barkha calls Adhik's attempt fake. Adhik and Barkha argue with each other. Anupama asks Adhik and Barkha not to fight on the first day of New Year.
Anuj further tells to Pakhi and Adhik that he along with Anupama is going to talk about them with Shahs. Samar, Kavya and Paritosh ask Shahs to relax. Vanraj misses Pakhi. Kavya asks Vanraj if he will not forgive Pakhi ever. Vanraj says he is yet to decide. Kavya asks Leela to talk with Vanraj. Leela says Pakhi has hurt Vanraj badly. Vanraj miss Pakhi. Samar and Paritosh comfort Vanraj. They both try to convince Vanraj to accept Pakhi and Adhik's relationship.
Barkha confront Adhik about using Pakhi for his own benefit. Adhik fails Barkha's plan to trap him. He asks Barkha to stay away from him and Pakhi. Barkha decide to expose Adhik. Anuj, Anupama talks with Shahs about Pakhi and Adhik's marriage. Vanraj refused Anuj and Anupama's proposal. [Episode Ends]
Precap: Pakhi demands for destination wedding. Anupama refuses for grand wedding.
Also See: